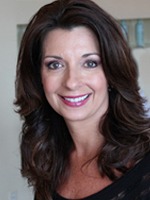 Karen
Designer 7 Libbie Grove
Education
Vidal Sassoon Academy Miami
Tony & Guy Academy Razor Cutting
Aveda Color Magic- NYC
Contemporary Classics Advanced Cutting

Making my guests' day by giving them gold-standard service and a perfectly polished new look is my ultimate goal each day. Although I love perfection and precision, I also enjoy the challenge of stepping outside the box. Encouraging guests to personalize their style by taking small risks has kept my job fresh and fun throughout my career!
BIT ABOUT ME I have a passion for hair and love having the power to be a day-maker. In my free time, I enjoy decorating, cooking, gardening and relaxing with my husband and puppy Zoey.
Nancy
November 06,2018
GREAT SERVICE.. PERFECT CUT...
Sonya
October 31,2018
Karen is amazing and she is a stylist!!!
Art
October 23,2018
Same great haircut every time
Hazel
October 18,2018
Always first rate. Thanks!!
Art
October 02,2018
Still the best
Sarah
September 26,2018
Always 5 s5ar ++++
Marilyn
September 18,2018
I am getting too many notifications and reminders from Mango..
Penny
September 12,2018
Karen made some color suggestions and I made the wise choice to trust the professional. My hair looks great!
Art
September 11,2018
The most consistent best haircut ever
Carol
September 06,2018
Karen is the best of the best!
Art
August 21,2018
fantastic
Pat
August 21,2018
Karen does an awesome job!!
Jeanne
August 15,2018
Love my cut!!!!
Carol
August 14,2018
Karen is the best!
Anna
August 07,2018
Love my haircut!
Jan
July 31,2018
As always, love Mango and all the staff...everyone is really friendly and responsive. As far as stylists go, there is no one better than Karen!
Linda
July 20,2018
Always the best!
Phebe
July 11,2018
Awesome as always
Mary Leigh
June 22,2018
STELLAR
Barbara
June 21,2018
Always awesome!
Art
June 19,2018
Best Haircut ever!
Penny
June 19,2018
So happy to have Karen back. She is the best!
Lou Ann
June 15,2018
Karen is THE best.
Faye
June 15,2018
Better than ever, always perfect. I have saved my hair cause Karen found that I have naturally curly hair & no longer need perms! Thank you!
Marilyn
March 02,2018
Brilliant as usual! Thank you!
Teresa
February 28,2018
Always a treat!
Carol
February 23,2018
Karen is always terrific!
Patty
February 07,2018
Karen always does a fabulous job... shamppo and massage were great and express check-out got me out on time!
Linda
February 03,2018
Help in rescheduling an appointment was excellent and cheerfully done
Mary Leigh
February 02,2018
Everything well!!
Annette
February 01,2018
Everything.
Carol
January 30,2018
Karen is terrific.
Barbara
January 29,2018
My experience at Mangos is always great. From the Fresh Talent I have to the wonderful job. Karen always does. I feel real lucky to have been able to keep Karen as my Hair Dresser all the years. If possible I hope my finances will continue to allow me too. Karen is such an Asset to Mangos! I just love her.
Julie
January 29,2018
Karen is a doll!
Dianne E
December 26,2017
Karen gets booked up months in advance and it is difficult to get an appointment. She does make every effort to try to get you in.
Carolyn
November 16,2017
Karen is awesome with color, cut and blow-out!
Gail
November 09,2017
Karen always provides great suggestions whether it be a new color or cut. I completely trust her! She is a gifted stylist.
Teresa
November 02,2017
AWESOME, AWESOME, AWESOME!
Hazel
October 14,2017
You did everything well. Thanks so much.
Cyndi
October 12,2017
Karen did an AWESOME job on the color and cut of my hair! I absolutely love it!
Carol
October 04,2017
Karen is the best, and the service is always so personal.
Sarah A.
October 03,2017
Karen and Cheryl are wonderful!!
Kathleen
September 25,2017
Always get a great haircut with Karen.
Annette
September 21,2017
My hair cut & color is perfect. Thanks Karen Mills. You are a Master.
Suzanne
September 20,2017
Everything! Karen is very accommodating and caring in addition to being a superior hair stylist.
Penny
September 15,2017
I missed my appt this week, but the appointment team was great about getting me in with Karen (incredible stylist) the very next day.
Art
September 12,2017
Excellent
Mary Anne
September 12,2017
All good!!
Gail
September 01,2017
Karen gave me a new cut today and it was exactly what I had in mind. Very happy with it. Loved Madi who washed my hair today! So sweet, did a great job
Marilyn
August 31,2017
Fantastic as usual!
Barbara
August 23,2017
Karen. Always amazing
Sarah A.
August 23,2017
Karen is always a joy''
Jean
August 22,2017
Karen is the best. She is so talented and conscientious.
Penny
August 09,2017
Karen is the best!
Julia
August 08,2017
Always very courteous and friendly.
Carolyn
August 03,2017
Karen's work is always wonderful!
Suzanne
July 27,2017
Everything, including working to get my daughter an appointment.
Teresa
July 21,2017
Knowing the challenging hair I have, Karen always puts me at ease and takes the challenge with such grace!
Kasey
July 20,2017
I greatly appreciate Karen being able to fit me in given Kim was not feeling well. I also appreciated that she was able to handle me being nervous with a new stylist. She was wonderful!
Lisa
July 20,2017
It's always a luxurious experience. Karen is a master at bringing out the best look.
Erin
June 22,2017
Karen is the best. Her attitude and talent are amazing assets for Mango. I am often complimented by strangers on my hair cut!
Deanna
June 16,2017
As usual, Karen goes above and beyond.
Donna
June 02,2017
The entire experience was perfect, as always with Karen!
Teresa
June 01,2017
Everything was done well
Linda
May 31,2017
Karen made me look a little younger today
Barbara
May 26,2017
I had had surgery and. Was in need of a cut , shampoo and style. So Karen, bless her heart, worked me in at 8:00 in the morning .As always she made me feel so good, and she lifted my spirits; not to mention the Beautiful job she did. I almost felt human again. Thank you. Karen, you are a jewel.
Marilyn
May 25,2017
Quality, quality, quality
David
May 24,2017
Great service from start to finish.
Katherine
May 05,2017
You were very patient and accommodating to a very emotionally charged mother of the groom getting ready for a wedding only days away. I am thrilled to have gotten an appointment with Karen on such short notice. The cut was the best I've had since coming to Mangos. Karen helped relax me. She and I discussed the cuts /styles I liked best and then Karen talked me through everything she was doing. She sharpened my cut and shaped it, by putting in a few layers and taking out some of the heaviness. Afterwards, I looked like a refreshed, younger, more relaxed and confident person! Karen is such an extremely talented master artist at envisioning the best hair style before she begins cutting and makes magic happen as she transforms my ok hairstyle into a work of art that perfectly compliments my hair type and the shape of my face. Loved the entire experience and have already set up my next appointment with Karen. Thank you!! I am so grateful to you!!!
Linda
May 02,2017
Great color!!!
Brenda
April 27,2017
Always leave happy!
Deanna
April 21,2017
Karen, as ever, did a wonderful job!! She stayed late and did a hair cut for me after completing my normal color.
Carolyn
April 19,2017
Karen does such a wonderful job!
Annette
April 06,2017
Everything
Hazel
April 06,2017
Everything! My appointments with Karen are always the best. I rate both questions above at a 5.
Suzanne
April 05,2017
Everything!
Sarah A.
March 29,2017
Karen is always THE BEST!!
Donna
March 24,2017
Karen's cuts and coloring are always perfect.
Barbara
March 01,2017
Always outstanding
Suzanne
February 28,2017
Everything from friendly smiles to very personal attention given by Karen.
Julia
February 23,2017
As usual, everyone was very nice and helpful.
Donna
February 22,2017
Customer service is always wonderful, and Karen is just the best.
Erin
February 02,2017
Karen is the best! Professional and talented... so good!
Randee
February 01,2017
Karen always checks how I've felt about my cut, concerns & desires
Robin M.
January 25,2017
Everybody on the staff is always so friendly and helpful. Karen does a gorgeous job on my difficult hair and it's always a joy to spend time with her. Rock star color and cut, love her!!!
Suzanne
January 22,2017
Everything went very well! I had to leave early and Karen and Mango got me out in time. Karen is super nice and very talented and professional.
Hazel
January 18,2017
Karen is always so responsive and helpful when I have questions. My time at Mango is relaxed and positive because of her and all the staff.
Susie
January 18,2017
Warm and friendly greeting
Carolyn
January 06,2017
Karen is awesome!
Teresa
January 06,2017
Everyone and everything was nice!
Barbara
January 05,2017
She's a 10 !!
Julia
January 05,2017
Nice people, good service
Janet
January 04,2017
Everything was great! I've been going to Mango with Karen for well over a decade!
Sarah A.
January 04,2017
Only trust my hair to Karen
Kimberly
December 05,2016
Karen is just the best! So professional and always has the best results.
Marilyn
November 29,2016
Kind, friendly people who were genuine!
Carol
November 03,2016
Karen highlighted and blew dry my hair. She always does an excellent job and you are fortunate to have her on your staff.
Erin
November 03,2016
Great place! Very warm and welcoming staff and very helpful for new clinets like me!
Suzie
November 03,2016
Today was overall color and hi lights. Karen Mills is a magician and works her magic every visit.
Hazel
October 29,2016
I always have a great experience at Mango.
Sarah A.
October 28,2016
Always a JOY to be with Karen. Hand massages especially welcome.
Carolyn
October 27,2016
Karen did a great job of coloring, coloring and setting my hair
Deanna
October 26,2016
Everyone is always so nice - from front desk to getting your hair washed. Karen is the main reason I come to Mango - she always goes the extra mile
Susan
October 25,2016
My stylist and the woman who shampooed me are both outstanding. (Katie is the person who shampooed me; my stylist is already one of your top people, so you don't need me to identify her!)
Suzanne
October 21,2016
You did everything well. Karen cut my hair the best it has ever been cut. I loved the entire experience.
Gail
October 20,2016
Always amazing!
Teresa
September 30,2016
EVERYTHING EXELENT!
Carol
September 28,2016
Karen is the best- her expertise and TLC go way beyond expectations. I know I can rely on her. Her attention to detail and style are remarkable. And she's a good friend.
Erin
September 14,2016
Karen is the very best. So talented, so professional. She's a true gem. Anna was fantastic. She gave me the best hair wash that I think I've had at Mango (and I've been going to Mango for probably close to 10 years - or more!). With yesterday's experience to use for comparison, this is an area that may be the weakest for Mango... compared to yesterday, my hair washes are usually just okay. They have been quick and I haven't always felt the Mango team member was focused on the task... that's not a big deal, until the guest can tell. Anna was great - she did a great job, was focused and professional and it was a great guest experience. It feels silly to note anything negative about a hair wash, but I was reminded yesterday what a great experience it can be - which adds to the total guest experience and value of Mango.
Millie
September 12,2016
Great introduction to salon and very friendly personnel
Barbara
September 09,2016
My experience at Mangos is always enjoyable. They enable me to come by always reserving me a place to park; as I have Knee problems, and it is hard for me to walk far. From the time I arrive they are always polite and thoughtful of my needs. Karen is the best; and I always leave feeling beautiful, thanks to her. She is a real asset to Mangos. All the Stylus are nice and friendly, and I feel like I have met and made some Friends. They always make me feel welcome. These are the kinds of things that make me keep coming back; and of course my favorite Stylus, Karen. Thank you Mangos, Barbara
Annette
September 09,2016
As always, thrilled with my hair cut & color thanks to Karen Mills. Always a positive experience at Mango!
Becky
September 08,2016
What a wonderful experience. Karen Mills is so talented. I felt comfortable letting her be in charge of my cut and color. I love it
Shannon
September 08,2016
Karen is great!
Sarah A.
September 06,2016
Excellent!!
Carol
August 31,2016
Karen is the consummate professional and a good friend. Everyone is courteous and helpful.
Suzie
August 20,2016
From check in to color station to hair wash then cut and blow dry, it was a great way to spend some time. It couldn't have gone more smoothly.
Leona
August 17,2016
Karen was so easy to meet, and serious about how to cut my hair, what style, etc. I love what she did! My husband loves it even though it doesn't have much "blonde" in it anymore. He really does like it. I will call tomorrow for my next visit. Sheryl did a two minute face make-over! She's talented also.
Barbara
August 15,2016
Karen....always a Gold Star
Julia
August 12,2016
Everyone is so courteous.
Anne
August 12,2016
Great hair cut and color, Karen and assistants were wonderful. It was a very relaxing experience.
Laura
August 10,2016
Karen is the best!!!!
Pamela
August 01,2016
Exceptional
Hazel
July 28,2016
My experience at Mango is always relaxing and a great break from my schedule. Hazel
Sarah A.
July 27,2016
Always wonderful w/ Karen M!!
Susan
July 15,2016
Not only is everyone kind, but they seem to be genuinely nice--not just nice b/c they're supposed to be.
Barbara
July 08,2016
Loved Roberta!!! Excellent head massage and great personality!
Teresa
July 07,2016
Liked overall experience
Annette
July 06,2016
Always love my experience & Karen Mills does an excellent job.
Kimberly
June 27,2016
I always feel very pampered every step of the way. And, Karen is the ABSOLUTE best.
Eleanor
June 25,2016
Michael did an excellent job washing hair and massaging my head and hands. He was very polite and a delite to meet. Karen worked her usual magic on my hair. She is by far one of the loveliest persons on this planet. She is professional and takes pride in doing her best.
Christi
June 24,2016
Karen is phenomenal! Literally just after leaving, stopped at a store and the girl waiting on me looks at my hair and says "someone cut your hair good. It's hard to find someone that can do that nice of a job". Yes, this girl was correct. Karen is go good with my whole mess of hair but she is equally as kind and full of life.
Julia
June 23,2016
Everyone is always very pleasant and efficient.
Kristin
June 17,2016
As always, Andrea, Sarah and Karen were fab. Thank you.
Lou Ann
June 16,2016
the very best thing you have done is hire Karen Mills.
Jo Ann
June 10,2016
Karen Mills is an excellent hair stylist. She recommends changes and makes sure the client is in agreement
Art
June 06,2016
Friendly, treated me personally, great staff Perfect
Kristin
May 26,2016
Sarah always makes me feel so welcome. And, Karen, was amazing as always!
Teresa
May 12,2016
Overall pleasant stress free experience