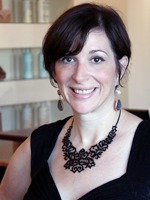 Kimberly
Designer 7 Westhampton
Education
Full Spectrum Deep Color Fusion
LearnAveda
New Color Trends
Principles of Education
Cezanne Certification
I can do ten bobs in a row and they are all different! Everyone has a unique hair type, head shape, and personality and this constant change, even on a day when many of my guests want a similar look, keeps things interesting and fun. I'm homegrown in Richmond and have built many professional friendships with guests along the way. Catching up with their lives and empowering them to feel better about their hair is the best part of my day.
BIT ABOUT ME I always say, stop worrying about what others think of you be completely true to yourself!
* Volunteer for American Cancer Society's Look Good, Feel Better program
Susan
July 23,2019
Kim is the best hairdresser ever! She brought my hair to life today with her expert coloring and cutting skills. Thank you so much Kim!
Catherine
June 21,2019
Wonderful as always
Catherine
June 21,2019
Awesome
Catherine
June 21,2019
Awesome
Anne
June 20,2019
THE MASTER! The BEST. No one like her...
Lynn
June 18,2019
by far the best stylist out there..
Maike
May 30,2019
Wonderful, as always! Great haircut, and I appreciated your responsiveness about the back!
Brandon
May 23,2019
My wife said my hair looks the best it ever has after this cut
Patty
May 14,2019
This was my first visit, and Kim was amazing
Catherine
May 07,2019
Amazing as always. Kim is my friend and hair stylist I am blessed. Also the gal who washed my hair I think was Tammy. Was awesome as well
Ann (Gregory)
May 07,2019
Always!!
Liz
May 02,2019
Also, my shampoo lady - Terrie I think - was awesome!
Olivia
November 01,2018
Attentive and talented
Kathy
October 13,2018
Love it!
Tina
September 21,2018
Very good cut, very good service. Thank you, Kim.
Catherine
September 11,2018
Amazing
Susie
September 11,2018
Great, as usual!
Lauree
September 06,2018
Great blowout and cleaned up a less than perfect previous cut Matched my current color perfectly
Jane
August 28,2018
Kim did a great job. However, when I tried to schedule a perm, there was no one at that location who could do a perm. I am looking at other salons to get a perm and I will probably not be back at Mango.
Anne
August 07,2018
Great job managing my crazy hair. Love my cut.
Kaitlyn
August 07,2018
I love my cut! Kim is the bestest!
Vickie
July 18,2018
A wonderful experience....always. Wish there was a cut in price for a tiny trim.
Christine
July 02,2018
Fabulous
Robin
June 30,2018
As always, listened to wishes & concerns with my hair and then did her magic! Looked & felt wonderful...
Susie
June 27,2018
Very pleased! First time ever getting highlights.
Olivia
June 22,2018
Awesome and efficient with her time.
Sonya
June 05,2018
Kim is awesome!!!
Serra
May 25,2018
Great as always!
Susan
May 16,2018
Kim listened very carefully to what I wanted.
Bev
March 03,2018
Every thing.....thanks
Angela
February 26,2018
The front desk was very friendly.
Robin
November 18,2017
Everything
Donna
October 23,2017
Kim does fantastic work with color and cut.
Mary
September 15,2017
Kim is always amazing, and Maddy (sp?) did a great job with shampoo, toner, and massage
Michelle
September 09,2017
Kim is awesome, as well as everyone at Mango! Very relaxing experience!
Carol
August 30,2017
Everything was perfect!!
Katherine
August 28,2017
Kimberly was great! She was quick and the color looks great!
Carol
August 23,2017
New hair cut...LOVE!!!!!
Anita
August 11,2017
Hair looks perfect! The woman who washed my hair was great by the way- I have very thick hair and she was very conscientious to shampoo and rinse thoroughly!
Donna
July 27,2017
Great color, and shampoo
Serra
July 25,2017
Kim accommodated my 3-year-old who was unexpectedly in tow for my appointment, and of course delivered the consistent fabulous haircut. Great experience, as usual.
Malinda 'Mindy'
June 30,2017
Excellent customer service.
Kelley
June 06,2017
I never have any issues with anything at Mango which is what I love. Everything runs smoothly and you are always on time which is important to me. Kim is awesome and so accommodating!
Serra
May 27,2017
Service is consistent, efficient, and results in a 'do that I get lots of compliments on every time
Catherine
May 23,2017
Everything.
Anita
May 19,2017
Kimberly did a very nice job- I was confident I would leave looking great
Reed
May 19,2017
On time
Catherine
April 25,2017
Everything. Always a wonderful experience. I look forward to coming in and seeing everyone especially Kim my hairstylist and more importantly my friend.
Jane
April 19,2017
Kim talked me through how to deal with my new perm.
Hollie
April 09,2017
Always a pleasant and relaxing experience. Kimberly gives the best cuts!
Reed
April 05,2017
The location is good.
Susie
April 05,2017
Kim is always great!
Carol
March 21,2017
Everything! KIm ALWAYS does a wonderful job
Liza
March 16,2017
Kim listens and wants to have a happy customer. I went in the day after to get her to make a slight change and she could not have been nicer and did not make me feel like an idiot for coming back. She is talented, energetic, professional, but also have a fun personality. The hardest part for me is articulating what I actually want and Kim is patient and works to figure it out.
Jane
February 28,2017
Asked all the right questioned.
Tricia
February 26,2017
Always on time. Wonderful shampoo! Fabulous haircut!
Liza
February 08,2017
Kim listens and gave me color samples to view. She absolutely nailed it. Best color I have ever had.
Stephanie
February 03,2017
Great experience, all of the staff memebers were super friendly and very knowledgeable
Ginny
January 29,2017
Kimberly always does my hair exactly how I ask, from color & highlights to the haircut! She is wonderful!
Melissa
January 21,2017
We edit the color needs every time!
Michelle
January 21,2017
Kim is always there when I need her. She always does her best to make my hair look great. I also appreciate the courtesy of all staff and assistants.
Sally
January 20,2017
My sweet Lauren was ill so the Mango team quickly remedied and found me a spot with amazing Kim! I had a great experience and even got my nails done why my color was setting. Wonderful morning of beautification at Mango. Thank you for always making me feel my best!
Susie
January 13,2017
Everyone in the salon is courteous and appears to take great pride in their skills .
Dana
January 12,2017
Quick and easy booking and appointment setting! Love Kim!!!
Carol
January 07,2017
Kim gave me a gray cut and I ended up with a new, fresher look!
Beth
November 28,2016
Kim is THE BEST. I moved to Dallas 3 yrs ago & can't find anyone to replace her. I need to move back to Richmond just to be near KIM!!
Susie
November 16,2016
Kim, I stopped at Marshall's on my way home. Two different clerks approached me to comment on how nice my hair looks. Thanks for making me stand out in the crowd! Susie S.
Page
November 16,2016
Always love my time at Mango. Kim does an amazing job on my haircuts!
Ginny
October 05,2016
Kimberly is the best!
Carol
September 17,2016
Hair cut was just what I was looking - a great change! Thanks Kim!
Cindy
September 01,2016
Kim as always sent me home smiling and so happy! She is not only a great stylist, she is a lovely woman, so professional! Love her
Malinda 'Mindy'
August 22,2016
Reallly know how to accommodate their clients needs. Top notch customer service. Thanks for the experience.
Catherine
August 08,2016
color and cutcan't think of of anything i love u all kim is my stylist and friend blessing to u all catherine lane
Carol
July 22,2016
I was greeted by an employee and shown around the salon. I was very pleased with the hairstyle given to me by Kimberly Andrews. I plan to return again.
Melissa
July 18,2016
Great as usual!!
Anne
July 14,2016
Courteous and professional staff.
Susie
July 08,2016
Always a pleasant experience! Kim is wonderful!
Reed
July 07,2016
Kim is great, so is Amy Wiggins
Cindy
June 21,2016
I love Kim! She is an incredible stylist . I change my hair every time I come and I always leave so very happy! She is so pleasant, friendly, kind, and honest! Everyone should have an employee like her! The best- thanks Cindy Crowder
Elaina
June 10,2016
Prompt start time, thorough consultation.
Reed
May 27,2016
Applied color
Susie
May 25,2016
Kim is great!
Joanna
May 19,2016
Wonderful hospitality, facility, and service!
Liz
May 19,2016
Love Kim Smith!