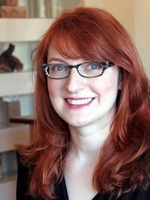 Sarah
Designer 6 Westhampton
Education
Business of Balayage
Bb Razor Techniques w/ James Ruiz
Susan Ford HairCut Trends
Balayage w/ Jimmy Girgenti
Full Spectrum Deep Color Fusion w/ Jimmy Girgenti
Hair Color Magic w/ Jimmy Girgenti
Haircolor Magic: Blonde Bombshell w/ Jimmy Girgenti
Haircolor Magic: Power Paint w/ Jimmy Girgenti
New Color Trends w/ Ian Michael Black


After graduating with a BFA in sculpture from VCU, I knew I wanted to do something using my hands and artistic sensibility. Working with interesting people and helping them develop a fresh image every time they sit in my chair, energizes my creativity. Hair color education has been a centerpiece of growth in my 16+ years as a Designer.
BIT ABOUT ME I love trying new restaurants in Richmond and exchanging recommendations with my guests!
Laura
August 06,2019
Great hair cut as always.
Judy
July 30,2019
Always a 5!
BJ
July 19,2019
We discussed what I wanted to do and she pepped up my color.
BJ
July 19,2019
Sarah gave me a cute pixie cut.
Lane
July 11,2019
Sarah is phenomenal! She listens to every word I say and always gives me a wonderful cut (which is not easy as I have baby fine hair!)
Kathleen
July 09,2019
Fantastic!
Jil
June 19,2019
Sarah is awesome.
Jane
June 18,2019
Sarah is so talented and always makes my hair look great!
Michele
June 15,2019
Always a professional... always sweet ... always job well done....
Lane
June 15,2019
Sarah is fabulous! She listens to every detail and provides constructive feedback. As a person with super fine, thin hair (ie super sensitive to a bad cut) I cannot imagine a better stylist!
Mary Hall
June 14,2019
Ex cellent
Sara
June 12,2019
Best haircut and blow dry ever!
Lynn Engleby
June 06,2019
Sarah is such a good listener and teacher🥰
Judy
June 01,2019
Always a great haircut.
Peggy
May 29,2019
Sarah is a true wizard with scissors and a color formula!!
Fannie
May 28,2019
Always the best!
Barbara R.
May 14,2019
Also a big shout out to Terri's fab shampoo and hand massage! AMAZEBALLS hands!
Barbara R.
May 14,2019
Most inexpensive face lift I've ever had!😝 I am born anew....
Sylvia
May 04,2019
Loved it !!!!
Judy
May 03,2019
Always perfect!
Laura
October 26,2018
Sarah is wonderful! I always love my cuts!
Laura
October 19,2018
Sarah cuts my hair so that the front curls under for the whole time between cuts.
Barbara R.
October 18,2018
I'm like a new human
Barbara R.
September 20,2018
It's like a mini facelift really!
Donna
September 19,2018
Sarah has kept my highlights going for a decade! She has adjusted them through the years to make sure they look as natural as possible. I always get compliments about my highlighting.
David
September 14,2018
Sarah Rocs!
Sara
September 11,2018
Always the best!
Ivan
September 06,2018
Another great hair cut from Sarah!
Kati
September 04,2018
Sarah is a true professional. Always accommodating, and very knowledgeable about cuts, color and hair care products. I feel pretty when I leave! What else could you ask for?
Barbara R.
August 23,2018
It's like a mini brow lift. Every. Damn. Time. I lose 10 years off my favce. You guys should delve into plastics. Hi to Laura Davis-my first!😍😍
Cindy
July 24,2018
Love everything Sarah does!! She is amazing!!!
Barbara R.
July 19,2018
Fab as always!! However, I think Sarah should seriously consider changing her position on Whole Foods. 😝😝😝
Donna
July 14,2018
Better at color than anyone else
Barbara H.
July 13,2018
Sarah is great! She listens, gives feedback and always delivers a really good cut.
Kathleen
July 05,2018
Very happy with my cut and color (as always)!!!
Beth
June 29,2018
Sarah i great with olor!
Beth
June 29,2018
Sarah always gives a great cut that grows out beautifully. She also has great ideas for small changes.
Nancy
June 13,2018
Always perfect... thank you Sarah!!!
Sara
May 30,2018
So skilled! Such a pleasure!
Paula
May 29,2018
Another great haircut from Sarah, who's been cutting my hair for 14+ years!
Sara
March 05,2018
Sarah is the best stylist ever!
Donna
March 01,2018
Sarah always does my highlighting perfectly. Totally trust her with any changes necessary for keeping my color looking appropriate for my hair.
Jennifer
February 27,2018
Welcoming atmosphere and talented stylists!!
Patricia
February 26,2018
Sarah was quite empathetic with my headache and promised to make it quick. I love my cut. And, I love the hand massage. Thank you , Sarah!
Melissa
February 11,2018
My entire experience from checking in, cut/color with Sarah and check out was first rate. I always look forward to my time spent at Mango!
Nancy
February 09,2018
Perfect color every time with Sarah!
Fannie
February 02,2018
Everything, as usual
Jane
November 29,2017
Sarah is simply the best, kind and talented
Kaky
November 18,2017
As usual, Sarah did an excellent job!
Nancy
November 14,2017
My color is always PERFECT with Sarah
Beth
October 21,2017
Color looks great and so natural.
April
October 20,2017
Sarah is always great! Today she treated me to lunch on what had been a very stressful day!
Jane
September 27,2017
Everyone was so nice and Sarah is the best! So talented and kind.
Donna
September 26,2017
Sarah has such an eye for making sure my color is perfect for the season and as my hair ages. I get compliments all the time on how it looks!
Sara
September 20,2017
She is stellar in every respect
Beth
September 10,2017
Customer service is always amazing. Sarah does such great work!
Shelley
September 07,2017
Always have a great experience with Sarah Shelton-Davis!!
Victoria
August 13,2017
Love Sarah, she's great!!!
Melissa
August 09,2017
As always my appointment was awesome. She is amazing with color and a perfectionist cutting and styling!
Patricia
August 07,2017
Sarah really listened to what I wanted. She showed me sample cuts which helped me to decide what style I wanted. I have gotten SO many compliments on my cut! Thank you, Sarah!
Jane
August 03,2017
Sarah is simply the best!
Melissa
July 28,2017
SSD is always awesome!!!
Nancy
July 28,2017
Always GREAT with Sarah! My color is spot on!! THANKYOU, Sarah
Beth
July 22,2017
Always a balance of highlights and lowlights to make a very natural look.
Rena
July 22,2017
Showed Sarah a picture and poof I had the cut!
Michele
July 12,2017
Sarah is always A...works with me on my requests and always gives great recommendations......staff as a whole are friendly and client oriented....my 11th year with mango!
Daphne
June 22,2017
Sarah is wonderful! She has been cutting my hair for about 8 years and I can't imagine going to anyone else! I enjoy coming to Mango -- the atmosphere is warm and inviting from the time you walk in the door until you leave. Well done!
Donna
May 27,2017
Sarah always does an amazing job! I've been going to her for probably 6 or 7 years and she never fails to make me happy!
Lynn Engleby
May 27,2017
Sarah listens to my wants/needs
Laura
May 25,2017
From checkin to check out everyone was friendly and prompt!
Robin
May 24,2017
The atmosphere at Mango is soothing. It feels like a retreat from your life... from the time you enter and your met with the kindness of the front desk, through to the mastery and pampering of your incredibly gifted stylist, its a gem. I look so forward to it - thank you for being worth every penny! (and this of course reflecting huge kudos to my creative and inventive stylist SSD who always manages to capture my spirit through my strands. :))
Kristin
May 03,2017
You worked with me to reschedule my appointment when I had an unexpected conflict arise. And the service and quality of work from Sarah is always exceptional. (But you already knew that. :) )
Sara
April 27,2017
fantastic experience in all ways!!
Nancy
April 22,2017
Sarah always gets it right! Thank you, Sarah :)!
Kaky
April 20,2017
Always a good experience!
BJ
April 20,2017
Sarah and I had a good conversation on what direction to go with my color for the summer.
Beth
April 17,2017
Great color!
Kathy
April 15,2017
Sarah is stellar!
Lynn Engleby
April 05,2017
She listened to what I wanted
Eliza
April 03,2017
Excellent service, wonderful attention. Anything sort of negative I could say was really circumstantial. Parking was a nightmare--I had to move my car twice. However, that's rooted in the Short Pump store being closed (and parking in the Libbie Grove area just is what it is). I did not receive a tour, which I gather is usually done for a first-time visitor, but that's because parking caused a delay in my arrival. So, really, no complaints! The price was higher than I expected, even reviewing your website and understanding I am not in Williamsburg, but I am very happy with my cut and color and with the overall service. I will be back to see Sarah in October and am pleased friends and colleagues referred me to you as my new salon in Richmond. Thank you. Eliza Eversole
Rena
March 16,2017
Wonderful haircut! Ashley washed my hair-well done
Barbara H.
March 16,2017
I did not have to wait. Sarah listened and with her input, did what I asked. The hand massage was a nice addition.
Mina
March 08,2017
She was awesome - would've preferred a neck and shoulders massage instead of my hands :)
Donna
March 03,2017
Sarah has been highlighting my hair for years. She's fabulous. Professional, always up-to-date on ideas and simply a lovely human being! I am just interested in getting my color at Mango because I've had my hair cut for decades elsewhere. I love the fact that Mango is cool with my leaving after the highlight without doing the whole cut/blow dry. It just attests to how professionally the salon handles all clients and their unique requests. Thanks!
Teresa
March 03,2017
Made me feel so much better, perfect cut!
Sara
February 23,2017
She is beyond fabulous
Fannie
January 29,2017
Scheduling, rescheduling and rescheduling again!
Amy
January 29,2017
Sarah is the best! She knows her stuff and really listens. All staff are very professional
Rena
January 25,2017
From shampoo to amazing hair cut it was super!
Shelley
January 24,2017
Always extremely pleased with Sarah Shelton-Davis !! She is the best!!
Christina
January 18,2017
My time with Sarah is always great. She has a wonderful way of connecting and making her chair a safe space to share. And the added bonus is that I always look great when she is done!
David
January 13,2017
Sarah Rocks!
Lynn Engleby
December 24,2016
Hospitality :)
Sara
December 22,2016
Sarah is outstanding
Donna
December 16,2016
Always a great experience and everyone is totally professional and talented.
Shelley
October 20,2016
Everything!!
Beth
October 03,2016
Great customer service!
Shelley
September 16,2016
Everything
Donna
August 18,2016
Sara Shelton Davis is ALWAYS amazing. Great skills and extremely professional. Plus, she's fun to chat with. I wish I co.uld remember the young lady's name who washed my hair. She did and fabulous job. I usually just go home with my hair wet because it's really all about getting my highlights, but she offered to do a complimentary blow dry and it was great.
Barbara R.
August 15,2016
Sarah the artist was lovely and thorough! Shockingly good music today as well, to include Tame Impala and Talking Heads even! Strongly suspect this is related to the fact that The Bobster was not on the premises!
Fannie
August 13,2016
I was almost a half an hour late for my appointment but still Sarah and the Mango team were able to do everything I was scheduled for: extensive highlights and cut.
Sydney
August 10,2016
Everything.
Kaky
August 03,2016
Great service as usual!
Lynn Engleby
July 22,2016
Love the hand massage and " a little lipstick" on the way out :)
Kaky
July 01,2016
Sarah always does a great job!
Fannie
June 29,2016
Everything!
Donna
June 29,2016
Mango is always professional and Sara Davis Shelton exemplifies the experience.
BJ
June 27,2016
Friendly front desk, offered me a drink, appointment was on time Sarah spent time with me talking about my color as I wanted to change it up some
Blair
June 12,2016
Sarah Shelton-Davis saved my hair! I was very impressed by how much time Sarah dedicated to consulting me on the best color and cut for my face and the care she took in executing her vision. Great first experience.
Rena
May 31,2016
People greeting were helpful about a new product. Really lovely women! Rembered to tell me I had point credits I could use. My amazing hair stylus, Sarah PS continues to make magic with my hair, she knows curls!
Harriett
May 26,2016
Love Sarah Shelton-Davis! Love the hand massage....