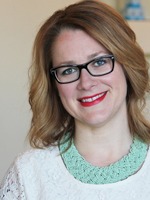 Alison
Designer 6 Westhampton
Education
Mango Color Mastery Series
Advanced Men's Cutting
Crushed Cintrine Haircolor
Deep Chocolate Haircolor
Dimensional Color
New Color Trends
Principles of Education
In order to deliver the best service to guests, I start by listening with an open mind and giving honest answers. I have over seventeen years of industry experience and when I moved to Mango, I wanted to be a part of the best salon in Richmond. Mango's team approach and the wide variety of guests I see, keep things collaborative and fresh each day. I love cuts and color and exploring new techniques for both. Aveda has so much to offer with color. I want to share these possibilities with guests.
BIT ABOUT ME On nice days, I drive my Vespa to work or spend time working in my yard. I feel lucky to live in Richmond and enjoy being close to the James River. Yoga and travel during time off keep me centered.
Dawn
July 25,2019
AWESOME, that's it AWESOME!!
Deb
July 22,2019
Loved the shampoo massage time with Sarah
Deb
July 22,2019
Very precise. Loved chatting with her
Deb
July 22,2019
Took extra time to remove excess color
Pat
July 18,2019
So helpful figuring out what to do as medical treatments having me losing my hair. Alison is wonderful!
Robbie
July 17,2019
I would follow Alison to the ends of the Earth
Jennifer
July 15,2019
Fabulous as always. : )
Calle
July 10,2019
Another great haircut!
Dawn
June 27,2019
Ali the BEST! Razor cuts rule....Gray hair and yoga makes one great!!
Rachel
June 26,2019
AMAZING as always! She is so talented!
Meg
June 21,2019
What a delight! Excellent service and experience.
Downy
June 03,2019
Alison always makes my hair look great.
Downy
June 03,2019
Alison's color makes my hair look natural
Downy
June 03,2019
I'm so grateful that Alison also treats my unruly brows!
Clay
May 21,2019
Always the best!
Allyson
May 02,2019
Alison is always the best and Terri gave the BEST shampoo. Thank you
Adam
May 01,2019
Fab as always 😁
Tacy
October 23,2018
The best!
Carolyn
October 22,2018
Great!
Adjani
October 18,2018
Quick and amazing cut!
Ellen
October 12,2018
Awesome as always!
Clay
October 10,2018
The best!!!!
Dawn
October 08,2018
#awesome!!! The best ever!🙌🙌🙌
Downy
October 08,2018
Alison is not only a talented stylist, but also a wonderful, kind person. I always look forward to my appointments with her.
Sharon
September 28,2018
The best!
Betty
September 26,2018
perfect
Betty
September 26,2018
the color tone matches perfectly
Rachel
September 26,2018
Alison always does an AMAZING job!!
Kammy
September 25,2018
Alison is wonderful! Very creative and she has a great eye.
Jeanine
September 20,2018
5 STARS !!!
Jenny
September 17,2018
She's so talented and easy to be with - I love my time with her.
Natalie
September 17,2018
Alison is the absolute best! She is so talented and a great person.
Gia
September 11,2018
Alison is awesome and I love my experience every time.
Alyssa
September 05,2018
Beautiful color!
Alyssa
September 05,2018
I don't even need to tell Alison how to style my hair - she knows every time what I'll like and what will look amazing. Coming to get my hair done is what I look forward to most every 5 weeks!
Downy
August 28,2018
I trust Alison to know what is best for my hair, in terms of style, color and products. She is the best!!!!
Downy
August 28,2018
Alison's talent as a stylist is exceeded only by her kindness and warmth as a human being.
Sydney
August 21,2018
Alison did a great job fixing a bad color job done by a different stylist and couldn't be any nicer / any more helpful!!
Cindy
August 21,2018
Terrific color
Cindy
August 21,2018
Excellent- new look
Elizabeth A
August 17,2018
She's the best at everything she does!
Carolyn
August 14,2018
Thanks for a great cut!
Barbara
August 07,2018
Alison is absolutely a delight to work with! She always makes me look fabulous!
Terry H.
August 06,2018
Alison is AWESOME!
Ginger
July 30,2018
Alison was great. She is always pleasant, friendly and professional. Ginger
Mary K
July 26,2018
As always.... she does a great job with my cut. She gets that I am trying to grow it out and she shaped it up nicely.
Mary K
July 26,2018
Love what Alison did with my color.... she accomplished just what I was looking for.
Courtney
July 25,2018
Alison is always on time, accommodating & caring! Love her!
Megan
July 20,2018
Alison is awesome!
Nicole
July 16,2018
Always an amazing cut and Alison is the best!
Downy
July 16,2018
Alison is the best! She takes the time to do exceptional cut and color for every appointment. That's why I keep coming back to her for so many years!
Laura
July 12,2018
Wonderful!!
Rachel
July 10,2018
Alison is amazing!!
Alyssa
June 27,2018
Beautiful color, exactly what I want every time!
Laura
June 20,2018
Alison is wonderful and I always love what she does to my hair!!
Mary K
June 14,2018
Always listens to my concerns about the problems with my hair especially while I am trying to go it out
Courtney
May 31,2018
Love the color! It looks natural, like I was born with these highlights. Just the look I was going for!
Jessica
May 30,2018
Alison is wonderful! She's always very thorough and I always leave happy.
Nancy
May 21,2018
I love Alison!
Barbara
May 17,2018
Great work...thanks
Donna
March 05,2018
My hair is fine and Allison knows how to get a ton of volume into my hair - no easy task.
Tacy
February 21,2018
Alison is the best! She gives great cuts and always helps me relax at the end of my typically long stressful day at work.
Tina
February 14,2018
Alison is always awesome at what she does! Love her!
Barbara B.
January 30,2018
Alison is a breath of air......she listens to every instruction I submit and I am thrilled with the cut.
Jessica
January 29,2018
Allison did an excellent job of checking in throughout the haircut to make sure I was happy with everything!
Natalie
January 08,2018
Alison did a super job with my cut which is at an awkward stage and I loved the highlights she added which looked really natural
Robbie
November 22,2017
Quick response to my scheduling request Alison, as always, did an outstanding job
Tacy
November 22,2017
Alison is fabulous. Love the Aveda tea, hand massage and shampoo with hot towel conditioning. And wonderful haircut by Alison who is so personable and charming.
Beth
November 17,2017
Love my haircut!!
Ann
November 10,2017
Everything
Courtney
November 09,2017
Everything! Alison is always great & so was the young lady at the desk!
Sharon
November 04,2017
Makung me feel special!
Teresa
October 19,2017
Alison is the best!
Jim
October 17,2017
Experience was great! Thanks
Kathy
October 11,2017
Love my color and looking forward to December appointment for cut and color.
Alyssa
September 27,2017
Alison continuously does a phenomenal job and I always look forward to coming in for my next appointment!
Kelly
September 26,2017
Alison is awesome as usual!!
Nicole
September 14,2017
Everything. Never have had a bad experience.
Tacy
September 13,2017
Adore Alison! She is attentive, has a wonderful personality and gives outstanding haircuts.
Melissa
September 12,2017
Getting a haircut from Alison is like getting a kiss from a rose on the grey. Five out of five starrrzzzssssz!!!
Barbro
September 06,2017
Everything was great as always
Sharon
August 29,2017
Color
Julie
August 17,2017
Great! Alison was so gracious and kind with the adjustment. She listens and made it easy. The manager (Kristen, Krista-apologies I'm not 100% sure of her name) was also super sweet in making sure everything was ok. Like I said to Alison, chemistry is tricky and I understand color doesn't always perfectly process. Thank you for seeing it through until just right!
Alyssa
August 17,2017
Alison always does a phenomenal job with my highlight and giving me the perfect blend of tones that I want.
Anita
August 11,2017
As always, Alison did a fantastic job!
Stephanie
August 02,2017
Everything!
Amanda
July 31,2017
Pleasant and attentive.
Nikki
July 27,2017
The service was wonderful, as usual.
Elizabeth A.
July 24,2017
The staff are always courteous and prompt. Alison is so talented and such a nice person.
Barbara B.
July 21,2017
I appreciate being greeted upon entering and you can't beat those hand massages. Alison is one of the sweetest and most "unaffected" operators I have ever dealt with.
Robbie
July 19,2017
The check in/out staff were very friendly. Alison did a kick ass job as always.
Jackie
July 18,2017
Terrific experience all around - warmly greeted, quickly checked in, Alison took me right back, asked what I wanted, offered suggestions, gave a relaxing shampoo and hand massage, cut and style were just perfect, Alison was friendly and professional throughout, easy checkout process. I'll keep coming back.
Sharon
July 14,2017
Loved everything!!
Sharly
July 13,2017
hiring great hair stylist.
Natalie
July 12,2017
Allison did an amazing job - the color looks great!
Barbro
June 28,2017
All done well
Gay
June 20,2017
Color is beautiful.
Sandi
June 05,2017
Hiring Allison:)
Jim
June 03,2017
Alison is wonderful, personable, and professional. She's got great technique and her men's facials are the best!
Wilson
May 24,2017
friendly atmosphere, very professional, lots of time was spent listening to what i wanted and executing it and i felt like she was taking pride in her work, felt very comfortable
Elizabeth A.
May 11,2017
Staff is always gracious, efficient, and welcoming. Alison is lovely - she has a calm, kind manner and mad highlight skills.
Beth
May 10,2017
Took time with me. Listened to what was important to me. Checked back with me.
Robin
May 04,2017
Excellent service . Allison went out of her way to accommodate me!
Stephanie
April 21,2017
Alison is fantastic!!! Check in and check out was very easy. Everyone was friendly
Jackie
April 13,2017
Great service from the moment I walked in the door until I left.
Beth
April 05,2017
She asked good questions. Suggested products. She made sure my hair laid correctly after it was dried.
Jaime
April 01,2017
Alison was awesome and made sure I was happy the whole time.
Courtney
March 30,2017
Everything was fantastic!
Alyssa
March 27,2017
My experience at Mango is always great with Alison. I never leave unsatisfied - she is amazing!
Blake
March 23,2017
Perfect haircut from Alison. Very satisfied and will be back.
Jenise
March 16,2017
Individualized attention before my cut. Just made me feel great!
Ava
March 15,2017
Booking and rescheduling is always very easy seamless. Thank you. Alison has done an amazing job of patiently restoring Ava's hair to a healthier status and better color. It was a tough case and she did it beautifully. Very appreciated.
Jocelyn
February 16,2017
Alison was wonderful--kind, considerate, and gave me the best cut I've gotten!
Elizabeth A.
February 15,2017
Everything! Warm welcome; no wait - Meg (?) came to me right after I'd changed into a smock to seat me at Alison's station; very little wait for Alison to get started, plus she is so nice and personable. Anna shampooed me - attentive and awesome. My highlights are fabulous (as always). FIVE STARS!
Natalie
February 13,2017
Alison is so talented. She does an amazing job with both the cut and color and is lovely and professional.
Alyssa
February 11,2017
Alison is wonderful and makes my experience at Mango unmatchable. I ask for her opinion on what I should try next with my hair because her knowledge is amazing. I look forward to my hair appointments more than anything else - not only for the relaxation and spa-like experience, but also because it's enjoyable to spend the hours it takes to get your hair done in a chair with someone like her. She's awesome.
Melissa
February 09,2017
Alison is the #Saltbae of hair.
Anita
February 09,2017
Looked at my hair/checked in to see how I liked my last cut before my wash
Jane
February 03,2017
Alison gives a great haircut! Love it!
Amanda
January 18,2017
Alison is wonderful. She cuts my hair just right. Hard to find a stylist who can give you a style that is a natural fit for the client's hair-type and their face. I am very impressed and pleased.
Jackie
January 17,2017
Great service - reception, shampoo, and hair cut
Gia
January 13,2017
You are always friendly and nice. It's always a pleasurable experience!
Ava
January 11,2017
The rating system isn't working but we give booking and consult and service with Alison both 5 stars. Booking was efficient, friendly and got us in soon as possible. Alison really is a pro. She helped with my daughter's color correction which was very challenging. Her instincts and experience led to a better than anticipated outcome. It lifted my daughter's spirits to look and feel better. That's invaluable. And so appreciated. Alison went above and beyond to fit her into her schedule. And, she clearly cares. We are so pleased!
Anita
January 06,2017
Great haircut! Alison always spends time with me before cutting my hair to talk about what's working/what changes I want. Very little to no wait.
Jane
January 01,2017
Great haircut!
Jane
December 23,2016
I really enjoyed meeting Alison and look forward to booking future appointments with her!
Melissa
December 21,2016
Alison makes the Nice List again this year! That's twice in a row! Keep up the good work! 5 out of 5 Starrrssssssss!!!
Kristen
December 08,2016
My stylist, Alison, was running a little late so the front desk called to let me know ahead of time. Maddie, who shampooed my hair, was very friendly and did a great job to help my relax.
Downy
November 22,2016
Alison, as always, is an outstanding stylist and person. I always leave Mango feeling pampered and well taken care of.
Eryn
November 17,2016
Always terrific service and experiences at Mango!
Melissa
November 16,2016
Alison tolerates touching my hair, even after I haven't washed it after a 6 mile run. 5 out of 5 Starrrssssssss!
Terry H.
November 10,2016
Alison is awesome!
Laura
November 10,2016
Everything!!
Natalie
November 07,2016
Allison did an amazing job with my cut and color
Dana
November 03,2016
I really love Mango. While Juliet is out on maternity leave I had color and cut by a different stylist. She did a great job, she modified the color some. It is a little bit more light strawberry blonde than what I would have preferred, I didn't really notice it until this morning.
Melissa
October 27,2016
You know how they say that Jesus turned water into wine? Well, Alison can't do that but she cuts hair like a goddamn angel.
Sharon
October 26,2016
Love Alyson
Julie
October 24,2016
Alison rocks! She's always great to me!
Shannon
October 14,2016
The booking experience was extremely easy. Laura at Guest Services reached out to me within 24 hrs of my request. She asked clarifying questions to ensure I was placed with the right stylist and booked my appointment right away. Thanks Laura! I am a new guest and was treated extremely well the minute I walked in the door. Jean, at the front desk, greeted me right away and gave me a tour of the salon. She was very helpful during check out as well when I booked my next appt. In the end, she held the door as I walked out and wished me well. Small gesture but much appreciated. Thanks for all your help Jean. I saw Allison and she was fantastic! She spent time talking to me about my hair, previous color, length, etc. Alison took her time with my highlights to ensure the contrast would be perfect. I left the salon completely in love with the highlights and cut. I was in and out in two hours flat but never felt rushed. The shampoo was awesome too....scalp massage and hand massage. I can't wait for my next appointment. Thanks so much Alison!
Melissa
October 05,2016
Alison turned this zero into a gyro I mean hero. FIVE OUT OF FIVE STARRSSSSS!
Natalie
October 04,2016
Allison is amazing!!!
Melissa
September 20,2016
Booking is always easy like a Sunday morning.
Sandi
September 15,2016
Hiring Allison Stokes:)
Jackie
September 15,2016
Alison is the best! She's the reason I patronize Mango.
Cary
September 02,2016
always good!
Downy
August 31,2016
Alison is the BEST stylist! She is not only talented, but also a caring person. She always has great suggestions to help me take care of my hair until my next appointment. McKenna always makes a point to check in with me. She knows how to make clients feel special. She also does a great job while I'm in the shampoo chair.
Natalie
August 24,2016
Allison is a wonderful stylist and makes you feel so comfortable. I can't recommend he enough!
Elizabeth A
August 19,2016
Booking appointments is always easy - phones are answered promptly, receptionists are efficient and friendly. Ditto checking in at the salon on the day of appointments - even if there are a few people in line, receptionists always greet and acknowledge your presence. My in-chair experiences have always been positive and relaxing.
Gay
August 04,2016
Love my hair and color. Allison always does an awesome job. Also love my new pedicure and color Shane with Tabitha!
Gia
July 26,2016
Alison Stokes is awesome and I love her! I will definitely continue using her as my awesome hair stylist :)
Jackie
July 23,2016
Greeted promptly & warmly & offered beverage; like having a place to store my purse so I didn't have to keep up with it in back; taken back right on time; shampoo was very relaxing & pleasant; Alison gave a terrific cut and style - thrilled with results, as usual!; prompt & helpful check-out; liked that you sent an email saying you missed me & offering a coupon :)
Downy
July 22,2016
Alison Stokes is outstanding in every respect--as a stylist and as a person. I also appreciate McKenna's friendly warmth, greeting me and checking on my welfare. They are both such positive, optimistic, and kind people, in addition to being excellent at what they do.
Allyson
July 20,2016
Alison Stokes always gives me the perfect cut and color and makes the experience perfect. Anna made it that much better with the best shampooing. Very relaxing.
Kristen
July 15,2016
Everything was great!
Melissa
July 13,2016
Alison is very talented. And I would know talent, I'm a Pokemon Trainer.
Sandi
June 24,2016
As always, Allison listened,worked with me on my hair style, and is always fun and easy to be around and have do my hair. I believe she really loves her work:)
Joan
June 21,2016
Wonderful personnel
Downy
June 20,2016
Alison is the best! Not only is she an exceptional stylist, but also she is a kind, compassionate person. Ashley did a great job with the relaxing hair-washing experience, and I appreciate MacKenzie's (who has washed my hair in the past) kindness in checking in with my well being.
Carey Ann
June 08,2016
Allison is energetic, passionate and a true gem.
Debbie
May 25,2016
Excellent service .....shampoo was wonderful. And, of course, Allison is the BEST!
Mary K
May 23,2016
Allison gave me a great new summer haircut. It looks great.