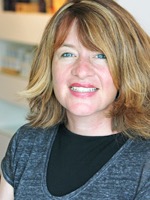 Dana
Designer 5 Westhampton
I love bangs, layers, curls, and soft beachy looks---but really, I'm up to the challenge of all types of hair. As a working mom and experienced Designer, I can relate to guests who are busy and have a lot on their plate. The time at Mango is their time, and I enjoy nurturing them by offering a relaxing reprieve from their day.

BIT ABOUT ME I've been a designer for over twenty years and have enjoyed getting to know guests and transitioning them into new looks.
Chris
August 10,2019
Fantastic!
Nancy
July 30,2019
Great cut and styling, she's so talented!
Julia L.
July 27,2019
Fantastic!
Catherine
July 20,2019
Dana is always the best - very skilled, good eye and just one of the nicest people I've ever met!
Cindy
July 09,2019
Always very friendly and professional!
Grace
July 09,2019
She is simply the best.
Barbara M.
July 02,2019
Great massage with hair was and great haircut
Mary
July 02,2019
Best stylist ever!
Julia- Carr
July 02,2019
Dana is fabulous. Great shampoo massage! I LOVE my blow dry. I'll be back!
Chris
June 25,2019
Vanessa was great as well.
Nancy
June 25,2019
Dana's always so professional and cherry! I'm always happy with my cut! Love your new location!
Cindy
June 04,2019
always so friendly and professional!
Mary
May 28,2019
excellent!
Ray
May 14,2019
Professional and great hair cut
Amy
October 30,2018
I love my color!
Carol
October 27,2018
Dana listened carefully to my description of my hair and the cut I liked. She offered creative suggestions which suited me perfectly.
Nancy
October 09,2018
Dana is always so great! I always get a great cut and she's so personable!
Barbara M.
September 11,2018
All was great. She listens well and knows how to execute what we talk about. This haircut is just right
Carol
August 14,2018
Perfect
Barbara M.
August 07,2018
Great haircut and love comfort of hair wash ststion and spa like scalp massage for hair wash. Top notch.
Anne
July 10,2018
Dana is the BEST!!
Marybeth
February 18,2018
Love that she had notes from last time and could recreate color someone else did. Dana was super friendly and skilled love my cut.
Will
February 07,2018
Dana gave me the best haircut I've had since I've been in Virginia. I will no longer have to fly home to have someone fix the bad haircuts I receive. Dana fixed a really bad haircut that I got just a week ago. I will definitely be back.
Mary
February 04,2018
Dana!
Lisa
January 31,2018
Dana always does a wonderful job. She listens and takes her time to make sure the client gets what they want.
Lisa
October 31,2017
Dana is wonderful. She has been my hair stylist for years and always takes the time to make sure that she understands what I want. She has helped me try different styles and colors, and always has good advice.
Nancy
October 12,2017
I was running late to my appointment and the staff was so nice and helpful in helping me reschedule.
Gregory
September 16,2017
Extremely friendly service with a great haircut! Always have come back to Mango because they are quite simply the best!
Sandi
September 10,2017
Customer Service #1 Attention to detail Pampering Hand massage Tea Caring & pleasant ( patient !) Knowledgeable about products
Cindy
August 29,2017
always very professional and friendly
Mayan
August 27,2017
Best haircuts I have ever gotten are from Dana.
Cindy
July 25,2017
Always very friendly and professional.
Cindy
June 27,2017
always very friendly and professional
Debbie
June 19,2017
The receptionist was so pleasant and helpful. Dana is a jewel, my hair looked wonderful. I look forward to seeing her on my next trip to Richmond.
Mayan
June 14,2017
The cut and rinse with Dana was the best haircut experience I have had.
Kim
June 03,2017
Attention to my wishes and didn't rush even though I was last customer of the day
Nancy
May 24,2017
Always great cut! Dana always listens to what I think I want and makes great suggestions!
Tara
May 01,2017
I've been a loyal client with Dana for over 10 years. She's the best!
Nancy
April 18,2017
Dana is always so great! Very sweet and professional. She gave me a somewhat new look and it's great!
Justine
April 06,2017
The staff always makes me feel special and Dana does a great job making my hair beautiful!
Justine
March 05,2017
Always courteous and friendly. As always, I felt pampered and enjoyed my visit.
Elaine
March 01,2017
Dana is incredible!!! So talented and wonderful!!! Also, Ashley gave me the best shampoo/head massage!!!Bye, bye stress!
Nancy
February 03,2017
Dana's always so personable and professional!
Amy
January 28,2017
As always, Dana does great work and is such a joy to talk to!
Lisa
January 18,2017
Always receive great and friendly service from everyone. From booking, to rescheduling, to checking in / out, to actual services. Dana is wonderful and genuinely cares about making her clients happy. She makes suggestions / has ideas, but always works closely with the client to make sure that the end product fits in with what they want.
Justine
January 15,2017
The staff is ALWAYS friendly, makes me feel special!
Amy
January 04,2017
Dana is the best colorist! I am always really pleased and know that my hair is in great hands.
Cindy
December 02,2016
Always fabulous, friendly and professional.
Nancy
December 01,2016
Anna helped Dana by washing my hair so I wouldn't have to wait. She did a great job and was so nice. Everyone at Mango is always so pleasant!
Jeannie
October 19,2016
No waiting - stylist greeted me at the door!
Nancy
September 08,2016
Everyone at Mango is so pleasant and professional! Great staff!
Bobin
September 06,2016
Love Dana!
Carrie
September 01,2016
Dana is delightful and her work is thorough. Jean greeted me and made sure all was well with rebooking. Thank you.
Samantha
August 23,2016
The online booking was great. I got quick responses and was able to get in quickly.
Cindy
August 10,2016
The service is always very professional and cheerful.
Cindy
June 28,2016
The service is always very friendly and professional.
Justine
May 25,2016
Always a pleasure. The staff is super polite, professional and thoughtful!
Cindy
May 18,2016
The service was very helpful, friendly, timely and professional.