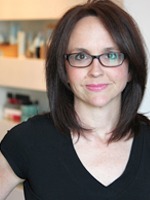 Jamie
Designer 5 Westhampton
Education
Advanced Men's Cutting w/ Michael Pavlick
Bb Men's Cutting w/ Bit
Bb Styling w/ James Ruiz
Color Splash Haircolor w/ Jimmy Girgenti
Core Cutting w/ Ricardo Dinis
Curly Cutting w/ James Ruiz
Curly Cutting w/ Tammy Carswell
Full Spectrum Deep Color Fusion w/ Jimmy Girgenti
Gray Coverage w/ Jimmy Girgenti
Hair Color Magic w/ Jimmy Girgenti
Haircolor Magic: Blonde Bombshell w/ Jimmy Girgenti
Haircolor Magic: Power Paint w/ Jimmy Girgenti
New Color Trends w/ Ian Michael Black
Versatility, consistency, professionalism these are the things I give a 110% each day to provide my guests at Mango. I work with lots of busy women who are dedicated to their careers or families (or both!) They have limited time to create a perfect look. This is where I come in to help with fresh ideas and the experience to execute the style, on their timeframe. Using my creativity, I enjoy developing looks through blow-dry techniques and styling products, particularly with short to medium length hair. It is a great end to my time with each guest!
BIT ABOUT ME My husband and I both started in the restaurant business and we still love to cook, try new restaurants and take "foodie" road trips with our three kids
Joan
August 09,2019
Always a great experience.
Alden
August 08,2019
Jamie is amazing and always knows exactly what to do to have my hair looking and feeling healthy!
Kathleen
August 06,2019
Fantastic!
Carol
July 31,2019
Superior experience as always, best Salon, love the parking lot, love the people, Sheryl rocks, Jamie B rocks... just fabulous!
Paul (Chip)
July 30,2019
Everything was great.
Michele
July 29,2019
Always consistent and detailed.
Annie
July 26,2019
Awesome, like usual!
Ed
July 11,2019
Jamie B's the best.
Carolyn
July 11,2019
Love coming in to see Jamie, always leave happy!!!
Catherine
July 09,2019
Another awesome haircut ! Thanks Jamie
Jill
July 01,2019
Love how Jamie works with my hair. I am loving my cut and color!
Genevieve
July 01,2019
jamie is a great hair stylist and I always feel she goes the extra mile for me.
Genevieve
July 01,2019
Jamie figured out this excellent way of keeping up with my roots in a very simple and efficient way. She's the best!
Carolyn
June 27,2019
Perfect as usual
Maria
June 24,2019
the best
Pam
June 13,2019
Friendly, professional Jaimie... you do a fabulous job on my hair....thankyou
Leonita
June 11,2019
Awesome lady!
Susan
June 10,2019
Always great!!
Mary Warden
June 05,2019
Amazing as always!
Paul (Chip)
June 04,2019
Everything was great and clean the shampoo prior to the haircut
Frannie
May 29,2019
Amazing
Maria
May 22,2019
Amazing ...
Maria
May 22,2019
Great, Jamie's professional consultation was such a help.
Maria
May 22,2019
The brdt
Maria
May 22,2019
Love it.
Heather
May 22,2019
Thank you so much Jamie! I really appreciate you taking your time to help me out today and for being so attentive. And also thanks so much for the consult on face/head shape with potential hairstyles! It gets me excited about a future cut where I had been
Carol
May 20,2019
Love going to Mango, the experience is relaxing, I love Aveda products and the ladies who take care of me = Jamie B!
Sally
May 20,2019
Wonderful to work with always!
Michele
May 15,2019
Excellent consistent service.
Haley
May 14,2019
Jamie is Awesome!!' Thank you.
Jill
May 13,2019
Great cut.
Jill
May 13,2019
Wonderful!
Carolyn
May 07,2019
Always a good job👍
Paula
May 03,2019
Love my bright new color!!
Mary T.
November 01,2018
Great cut!!
Jerri
October 30,2018
Jamie is so gifted with harmonizing hair!! Just love her and Melody!!! Mango is the best and kindest Salon. Happy Halloween to all! Jerri
Sharon
September 28,2018
Great blowdry.
Ed
September 25,2018
The best.
Susan
September 05,2018
Always a great haircut with a wonderful stylist!
Keithley
August 30,2018
The best! My hair loves her!
Caley
August 28,2018
I worked with my last stylist for several years and it was hard to think about transitioning to a new person. Jamie has been fantastic and it feels like I haven't missed a beat at all.
Suzanne
August 21,2018
Jamie did an amazing job!
Carol
August 02,2018
I love Jamie B, she crafts my crazy hair into a sight of beauty - I appreciate her very much; your whole staff is awesome too.
Frannie
August 02,2018
The best! Thanks Jaime
Deb
July 31,2018
Amazing
Helen
July 31,2018
Jamie is very talented. She cuts and styles with skill and expertise.
Wendy
July 30,2018
Fabulous haircut - Caring and so very professional... Blessed to be her client
Sally
July 30,2018
Excellent!
Jill
July 23,2018
I can't say enough about the service Jamie provides. She is excellent in her craft and artistry!
Jill
July 10,2018
Excellent! Thank you.
Maryann
July 05,2018
Loved my service. Thanks Jamie B!
Caley
July 02,2018
This was my first visit with Jamie and it was great! It can be hard to have a stylist leave and have to find a new one - but this transition seems easy!
Anne Marie
June 29,2018
Awesome
Sally
June 25,2018
Wonderful to work with. Thoughtful and excellent in color, cutting and styling!
Dianne
June 15,2018
She's a genius ❗️
Carolyn
June 04,2018
Great as always 😅
Diane
June 01,2018
Thank you for fitting me in. Great cut!
Beryl
May 29,2018
Always great to see Jamie. She's amazing!
Wendy
May 16,2018
Beautiful color Jamie listened to my concern and gave super advice.
Mary
February 22,2018
Jamie is great with color and cut!!
Nancy
February 21,2018
Janie is great. She LISTENS to my needs and does a great job with color and cut.
Lynn
February 05,2018
all great.. in and out and well taken care of
Dianne
January 29,2018
Jamie B ALWAYS creates color techniques that makes my ever-changing evolution work for me
Donna
December 04,2017
I love Jamie!
Marilyn
November 30,2017
Jamie is great and the color she has come up with for me is wonderful! Macy gave best shampoo and head massage ever!
Niki
November 16,2017
Jamie suggested a new color process that I absolutely love. She did a great jog of increasing the highlights around my face. I would love to come to her again but our schedules are very different so I am not sure that will be possible .
Lynn
November 15,2017
Jamie is always pleasant and upbeat - and cares about what you want.
Dana
November 08,2017
Please tell Jamie that when I left and went into work 10 people said "wow, your hair really looks good". I like it too!
Marilyn
October 28,2017
Everything!!
Genevieve
October 24,2017
Jamie listened to what I wanted and did exactly what I asked for.
Ed
October 20,2017
everything
Dora
October 10,2017
Awesome talent and service!
Susan
October 06,2017
Jamie consistently gives me a great cut that stays looking nice until my next appointment!
Helen
October 05,2017
Everything. She's a rockstar.
Susie
September 29,2017
As always, everything was done well! Thank you so much!
Marilyn
September 28,2017
Everything as usual!
Jane
September 13,2017
everyone is always so welcoming and pleasant!
Lacy
August 30,2017
So friendly and organized. It was my first time to go to mango!!
Ed
August 25,2017
everything, as usual!
Marilyn
August 22,2017
Experience with Jaime was wonderful as always! I like her and the way she does my hair.
Judy
July 28,2017
Always friendly and professional service
Michele
July 18,2017
Jamie really cares about her clients and takes a genuine interest in their hair care and styling needs between haircuts.
Susie
July 09,2017
As usual, everything was wonderful!
Christy
July 07,2017
Great cut as always!!!
Marilyn
July 01,2017
Everything! The friendliness of the people can not be beat!
Karen
June 27,2017
You were able to get me in the same day I called. Thanks!
Beryl
June 26,2017
It's always a pleasure to work with Jamie. She always goes "above and beyond" Today I believe she a minute or two between appointments and came over to do the hand massage. That was great. And indicative of the fact that she always looks for ways to provide not only a great color/haircut, but makes the experience itself so enjoyable.
Susie
June 11,2017
Everything!
Nancy
May 30,2017
It's a nice color, but not what I really wanted!
Alexandra
May 20,2017
Jamie who did my blowout did a great job.
Richard
May 19,2017
Hair cut...Great! Jamie...Great!!!
Lynn
May 17,2017
I did love Jamie.. her personality and demeanor. She truly wanted to do what I wanted and gave me good guidance on her thoughts.. it turned out perfect.. and I honestly LOVE my hair..
Gail
May 16,2017
Offer drinks, assist in every way to make appointment pleasurable
Ryne
May 16,2017
Jamie was very flexible with determining what was best for my situation. She offered me items that were above and beyond what I was expecting (facial, warm towel, oil for my scalp). She was patient and worked well with me.
Alison
May 11,2017
All good.
Jane
May 11,2017
Jamie is wonderful and makes my experience at Mango excellent!!!
Shari
May 08,2017
She did a perfect job!
Richard
April 21,2017
LOVE Jamie - she deserves a raise!!!
Randi
April 20,2017
I so appreciated the extra time and attention I received because of a perm mishap ( got it at another salon. I won't make that mistake again!!!)
Michele
April 07,2017
Jamie is just great - always listens to me and always delivers.
Donna
April 05,2017
I love coming to mango.
Mary Kay
April 04,2017
Color is great!
Susie
April 03,2017
Everything was done well!
Diane
March 31,2017
Jaime is always wonderful and so is Cheryl. Love Mango.
Beryl
March 29,2017
Experience with Jamie is always excellent. Shampoo experience with Jesika was terrific.
Cari
March 17,2017
The consultation was great!
Judy
March 14,2017
On time ,professional ,color looks good
Betsy
March 14,2017
Thank you for making an appt so quickly and what a blessing - Jamie was incredible - patient, professional, and excellent!!!
Jacque
February 17,2017
I was greeted and reception offered to fill up my water bottle for me. Jamie was great as usual and even got me in a few minutes before my appt time. Jamie also took me out to see Sheryl for a makeup touch-up herself, then recommended stylists for my 18 year old. I set up appts for both me and my son before leaving.
Harriette
January 31,2017
Ashley gave me a lovely shampoo and hand massage, and Jamie is always terrific.
Carolyn
January 26,2017
On time and as usual, Jamie was terrific.
Judy
January 24,2017
Friendly service and knowledgeable stylist.
Susie
January 05,2017
Courteous, efficient, clean & neat.
Beryl
January 03,2017
It's always a pleasure to see Jamie. She's terrific!
Emily
December 08,2016
Jamie did a wonderful job on my haircut and color. She'd never even met me before, yet she did a fine job. Loved it.
Judy
December 07,2016
The person washing hair and doing hand massage was great. I always have a great experience with Jamie B. too.
Nancy
December 07,2016
I have visited Mango twice now- everyone is very nice and there is very little wait.
Gail
November 21,2016
Great, friendly staff. Always patient and willing to go the extra step.
Leigh
November 09,2016
such great personal service. everyone conscientious , solicitous, professional. Love my haircut and love the hand massage. It's a relaxing, pampering atmosphere!
Harriette
November 03,2016
Always a pleasure to have services performed at Mango. Jamie B. And Sheryl are outstanding.
Mary
October 28,2016
Jamie did a fantastic job with my mini-highlight, and Michelle gave me a great pedicure! Jamie ordered me a Cafe Mocha from Starbucks, and Michelle helped me preserve my pedicure with extra oil and saran wrap so that I could play golf! Amazing service over the top!
Genevieve
October 26,2016
You were courteous and efficient. My hair looks great.
Donna
October 25,2016
Love Jamie Brunetti! Always
Michele
October 20,2016
Jamie B, Cheryl and everyone is wonderful.
Nancy
October 19,2016
Everyone was friendly and it was great to get a makeup touch up afterwards ! Thank you!
Shirley
October 13,2016
Had the best head massage by Roberta and the best hair style by Jamie B
Ron
September 22,2016
Reservation experience is always smooth and easy.
Donna
August 24,2016
Jamie B. is the best. great hair cut! always pleasant and professional. Pat and Bobbi should write a book on how to run a successful business!
Michele
August 22,2016
I love Jamie B!!!!
Mary Warden
August 22,2016
Amazing as usual!!
Marilyn
July 29,2016
Everything.
Deb
July 26,2016
Smiled!
Beryl
July 25,2016
Jamie B. is always terrific. Very skilled, very pleasant, prompt and wonderful to work with. She really cares about what she does and her clients!
Michele
July 18,2016
It's always a pleasure coming to Mango for any service. It's like family - only nicer! LOL!
Sarah
July 08,2016
1. Were able to book me a hair appointment at an odd, last-minute time and give me a top-ranked stylist for a random shampoo/blowout. 2. Took me on time and got me out quickly and with a great "do"!
Carolyn
June 29,2016
Jamie B. is wonderful and Holly (I think that's her name) did a really good job with shampooing and hand massage.
Michele
June 21,2016
Consistent excellent customer service
Joy
June 19,2016
You always do well Jaime B is awesome and the all around service is great
Mary
June 10,2016
Michelle and Jamie B are both fabulous, and I always enjoy my mornings at Mango!!
Marilyn
May 27,2016
Great wash and head massage Jamie wonderful as always
Donna
May 23,2016
jamie b is the best! also had a great shampoo!! thanks mango!
Stephanie
May 12,2016
Jamie did a wonderful job. Love my color. She even took the time to clip a mistake out from another salon mistake. The shampoo and message was very relaxing. Wonderful experience !