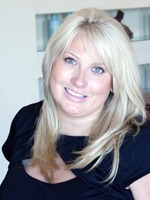 Melissa
Designer 4 Westhampton
Education
Advanced Razor Cutting w/ Bit
Bb Men's Cutting w/ James Ruiz
Full Spectrum Deep Color Fusion w/ Jimmy Girgenti
Haircolor Magic: Power Paint w/ Jimmy Girgenti
LearnAveda w/ Ricardo Dinis
New Color Trends w/ Ian Michael Black
Growing up, I loved hair and imagined myself as a hair designer one day. After attending the Aveda Institute in St. Petersburg, FL, I returned to Richmond and went through Mango's Academy. Through continued education and daily inspiration from my co-workers, I have fine-tuned my cut, color and styling techniques. Right now, I particularly enjoy Balayage hair color and finishing. The blow-dry is that final step of the appointment that showcases my cut and color, and allows me to add extra flair.
BIT ABOUT ME I'm always smiling and want my guests to leave smiling too! I played volleyball all through high school and have continued with the sport in adult leagues at RVC.
* Volunteer for American Cancer Society's Look Good, Feel Better program
Becky
August 12,2019
Amazing as always
Zachary
August 09,2019
Awesome, as always!
Adam
August 08,2019
Melissa is great.
Elizabeth
August 07,2019
Melissa is THE BEST!
Sandra
August 02,2019
So sweet plus I get a terrific haircut
Suzanne
July 15,2019
Excellent. I will see her again. A great stylist and person inside and out
Joshua
July 13,2019
Love Melissa!!!! The best!!
Kathleen
July 13,2019
She did a great job!!! Thank you.
Tracey
July 13,2019
Exceptional
Sharon
July 12,2019
Melissa is the best!!!!
Bryn
July 09,2019
I always get compliments on my hair and it's all thanks to Melissa!!
Bryn
July 09,2019
Melissa is so professional as well as a great listener.
Jennifer
June 29,2019
Love, love, love Melissa! So talented!
Ashley
June 03,2019
As always, Melissa did an amazing job on my highlights, and is always so great to talk to!
Jeannie
June 03,2019
Always knows just what to do for my hair. Very professional and caring.
Bryn
May 30,2019
Always a wonderful Mango experience!!
Tracey
May 04,2019
Love my cut, Melissa !!
Cathy
October 25,2018
Melissa is wonderful!
Brook
October 12,2018
Thanks Melissa!!
Kathie
September 13,2018
Melissa is an awesome stylist- I strongly recommend her!
Celina
September 12,2018
Melissa takes so much time with me and is so attentive to detail!
Bryn
August 15,2018
I get so many compliments after Melissa styles my hair!
Jeannie
August 07,2018
Great! Always knows just what to do!
Emilie
August 03,2018
Melissa is so glamorous, I love having her do my hair! I just wish tipping envelopes were provided, regardless if I had to carry it back and not leave it at the desk.
Emilie
July 10,2018
Melissa is awesome! I left with my hair super smooth and just the right color!👏
Bryn
July 03,2018
I look forward to coming to Mango's and getting pampered! :) Melissa always does a wonderful job.
Cathy
June 06,2018
Melissa was so great! Did exactly what I was looking for... I am thrilled to be back at Mango and have her be my hair guru! Well done
Bryn
May 23,2018
Melissa knows what hair coloring works best for me.
Cathy
February 12,2018
Appt on time! Melissa did an excellent job as usual.
Pat
February 09,2018
Melissa rearranged my appt because of a conflict with a doctor appt. she is so happy, pleasant and always a pleasure to see.
Emilie
February 09,2018
"Somethin' bout platinum"!
Kristie
February 02,2018
Love the new coloring formula she used. Melissa always goes above and beyond!!!
Alyssa
February 01,2018
Everything! Staff is always friendly and welcoming. Melissa is the fabulous! She does a great job with cut and color and has a lovely personality.
Carol
January 29,2018
Melissa kept the toner on the exact time to achieve the golden tone we were aiming for.
Tom
January 29,2018
everything !!!!!!!
Joan
January 29,2018
pleasant surroundings and staff - I especially like Melissa and her experience has resulted in my being pleased with my haircuts
Patricia
December 01,2017
Everything!
Michele
November 21,2017
Friendly and attentive staff from check in to check out.
Susan
November 17,2017
Melissa has been working with me on my color and she always listens and understands. She has reached the perfect color for me.
Bryn
October 24,2017
Punctual, pleasant and professional!! :)
Pat
October 12,2017
Melissa always works very hard to make me feel better about my bad thinning hair. She is the best.
Joan
October 10,2017
friendly, professional, pleasant experience all the way around. Nice salon space and nice personnel too.
Susan
September 25,2017
Melissa is very knowledgeable about color and has done an excellent job achieving the shade I want.
Bryn
September 14,2017
I love being pampered at Mango!! Melissa is wonderful and the entire experience is consistently stellar. :)
Michele
September 09,2017
Melissa is wonderful!
Kendall
August 29,2017
Melissa was wonderful, as always.
Lisa
August 29,2017
Great service at the reception desk and from the stylist, Melissa Lowry. Melissa does my hair color and cut very well, and gives great ideas for updating the style from time to time. She is alwYs so pleasant and friendly, too.
Sue
August 19,2017
Melissa always does a great job on my hair, I get lots of complements
Carol
August 17,2017
Everyone was very friendly and helpful. Melissa is a friendly girl who asks questions to make sure you are pleased with the result.
Mackenzie
August 15,2017
I didn't feel rushed and I was very comfortable. Everyone makes you feel special.
Anastasia
August 11,2017
Melissa is a true professional. I love my color! It's easy to mess up a blonde...you can either make someone yellow or too platinum where it falls off leaving bald spots. Melissa knew the correct mix and blended me in perfectly, plus she has the sweetest personality!! Melissa is a color specialist I am coming back to her 100%. THANK YOU!!! -Happy Blonde
Jeanie
August 08,2017
Friendly Expertise!
Jennifer
July 29,2017
Melissa is fantastic. Highly recommend!
Lou Anne
July 28,2017
Thanks for kindly rescheduling my appointment within the same day.
Jerry Ann
July 08,2017
Melissa always gives ma a great cut or trim. Coming to Mango and Nelissa is always a special experience, a treat to myself.
Kate
June 15,2017
Everything, great experience!
Beth
June 03,2017
All aspects. On time, courteous and professional service by all, and great blow dry and style by Melissa.
Ashley
June 03,2017
I had an amazing experience with Melissa. She listened to how I wanted my hair and translated it in a way that flattered me individually. She was also very personable and created a relaxing environment.
Amy
May 26,2017
I really enjoy Melissa. She is very easy to talk to, seems to thoroughly enjoy her job, and is very talented.
Joanna
May 22,2017
I was in a rush because of some unexpected family plans and Melissa orchestrated my manicure to occur while my blow dry was happening and got me out of there with time to spar. She is such a delight and I plan to see her again repeatedly. Great experience - huge thank you to Melissa.
Kristie
May 17,2017
She listened to my concerns and was really focused on the outcome being what I wanted.
Cindy
April 10,2017
As usual Melissa did a perfect cut and color on me!!!! Happy,happy,happy!!!
Pierce
April 09,2017
Melissa: thank you as I loved my hair so much!!
Amy
April 08,2017
Melissa is very easy going and always positive and fun to be around!
Kristie
April 07,2017
Melissa is fantastic. Every time I see her I'm even more impressed with her customer service skills and her technique.
Tracy
April 06,2017
She took the time to listen to what I needed and the current condition and status of my hair.
Jerry Ann
March 28,2017
Always a nice experience and Melissa can be counted on for an excellent hair cut.
Wendy
March 28,2017
It is such a treat to come to this Salon Everyone is always so happy smiling and talented..... I was delighted to have such a wonderful experience with Melissa - such a jewel..... Tabatha was her usual charming "evil" self - I think I deserve a medal ................................
Jill
March 24,2017
She did a great job. The hair wash was wonderful. I don't know the girl's name. She massaged my head and neck wonderfully! It was the best!!
Alyssa
March 13,2017
Everything!!! From start to finish, always a pleasant experience.
Bryn
February 24,2017
Everything!!! :)
Kristie
February 13,2017
Melissa is awesome.
Laurie
February 02,2017
Melissa is so client focused, professional and laid back and fun to talk to. She's great!
Mary Anne
February 01,2017
Melissa did a wonderful job and as always was superbly professional. I appreciate the care she takes be it for color or a cut.
Jeanie
January 19,2017
Melissa selected just the right shade!
Jerry Ann
January 17,2017
Friendly reception On time Melissa always takes the time to do a good job.
Bryn
January 12,2017
Prompt, friendly and professional stylist :)
Sherry
January 03,2017
Melissa is AMAZING. My hair is fluffy and soft and the color is beautiful!
Kendall
December 16,2016
Great service and very friendly staff.
Jeanie
December 06,2016
Personable, Welcoming from check-in to check-out. Maddie was excellent with the shampoo and massage. Melissa's expertise was appreciated!
Bryn
December 04,2016
Wonderful customer service, friendly, professional and talented stylists.
Kristie
December 02,2016
Melissa is a gem that I hope you can hold onto. She really looks out for her clients and what will work for them individually. This is my second time seeing her and I look forward to my next visit with her!
Jill
November 28,2016
Melissa was great. I like that she asked questions and proceeded on my answers. Looking forward to having her work on my hair again.
Pat
November 18,2016
All was good.
Bryn
October 27,2016
Prompt, professional and friendly service, a relaxing and excellent hair styling experience, and my favorites...the hot towel conditioning and the hand massage!! Melissa is wonderful!! :)
Donna
October 24,2016
I love my haircut. Melissa was very personable and did a great job on my hair.
Stephanie
October 17,2016
Melissa was great! Listened to what I wanted in a new cut, looked at pictures with me, and made sure I was completely satisfied before I left. Love my new cut!
Heather
October 10,2016
Melissa did a great job!
Jerry Ann
October 06,2016
Always a pleasure, and relaxing!
Kristin
September 17,2016
My stylist, Melissa, is amazing. Friendly, approachable and an expert at her work.
Bryn
September 13,2016
Friendly, professional, pampering experience!
Kristie
September 06,2016
I loved loved loved the new (to me, not to you) stylist and color specialist, Melissa that I saw. She was so friendly and confident and did a marvelous job on my hair for both color and cut. Best color I have had in years. I will be returning to her! You have a gem!
Mary Anne
September 02,2016
I highly appreciate the time and care I receive from Melissa Lowry. She does an excellent job.
Meghan
August 26,2016
Kelly was wonderful and listened to my concerns with my hair. She suggested what she thought would look good on me and listened to what I liked and disliked. She had a great personality and was so easy to talk to and I felt like she was listening 100% I love how my hair turned out and I couldn't ask for a better experience.
Alyssa
August 22,2016
Always a great experience!!
Sam
August 15,2016
I went to Mango for the first time this weekend and had a great experience. Melissa took the time to really listen to what I wanted to do with my hair. The end result was exactly what I wanted. Definitely will be returning!
Linda
August 15,2016
Melissa did a very beautiful color on my hair. I'm so happy and most of all feel lovely:)
Bryn
August 02,2016
Prompt, pampered professional experience...I always look forward to coming to Mango's. Melissa Lowry is wonderful :)
Judy
July 28,2016
Mellisa Lowry is a wonderful associate. I was referred to her from Monique, who was out on maternity leave. Mellisa did a fantastic job and I was lucky to get to know her and have her color and cut my hair. Great job, Mellisa!!! Thank you.
Deborah
June 17,2016
Pleasant staff. Very nice haircut.
Pat
June 16,2016
You have Melissa. I started with someone else at Mango but Melissa is the best. A happy, totally delightful person who aims to please.
Michele
June 16,2016
Very friendly staff
Bryn
June 10,2016
I love all of the pampering, from the beverage I was served to the hot towel and hand massage! Melissa is wonderful and so prompt. She is such a good stylist and listener. I always have a fabulous experience.
Anna
June 08,2016
Melissa is fabulous!!
Jamie
May 23,2016
Everyone was friendly. The booking process was easy.
Mary Anne
May 20,2016
Every one is always very pleasant.