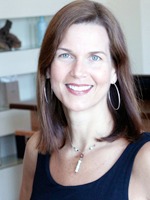 Elizabeth
Designer 4 Westhampton
Education
Bb Men's Cutting w/ Bit
Bb Updos w/ James Ruiz
Full Spectrum Deep Color Fusion w/ Jimmy Girgenti
New Color Trends w/ Ian Michael Black
Short Hair Cutting w/ Hauns Korpela
A
fter a career in Networking where most of my business was conducted virtually, I appreciate the active, hands-on element of being a Designer. The best part is that the fruits of my labor are instant and tangible, and variety is a constant-color, cut, style, and wax. Shifting gears with each client taps into my adventurous spirit and gives me a chance to bring a fresh focus to each guest's specific hair goal. I particularly enjoy designing styles for fine and thinning hair and developing natural looks for gray hair coverage.
BIT ABOUT ME When I'm not working, I'm outside biking, hiking, snowboarding-anything to get me outside!
Cindy
August 10,2019
Elizabeth always does a great job.
Cindy
August 10,2019
I wouldn't go anywhere else.
Cindy
August 10,2019
Always excellent
Stuart
August 01,2019
She's the best. Always so pleasant and enjoyable.
Kim
July 25,2019
Very knowledgeable
Kim
July 25,2019
Beautiful job!
Kim
July 25,2019
Exactly as I wanted. Wish I lived here. She would be my stylist!
Judith
July 16,2019
Elizabeth cuts my hair beautifully and is such a delightful person.
Marshall
July 16,2019
Always great !!
Vicki
July 13,2019
The wonderful person who washed my hair needs a special thank you
Ulli
July 02,2019
Excellent as always!
Mary
June 29,2019
Very happy with my cut and color - Elizabeth listened to my concerns and provided excellent advice.
Michael
June 28,2019
Super - also young lady Emma or Ella? Pleasant experience.
Sarah E.
June 22,2019
Elizabeth is so kind and thorough, my hair has never looked better!
Mckenzie
June 20,2019
She really took a lot of time and care in our consult!
Mckenzie
June 20,2019
Loved my cut!
Allison
June 20,2019
Elizabeth asks questions and listens to your answers. So thoughtful. Love her.
Suzanne
June 11,2019
Liz listened to what I asked for, and cut my hair exactly as I described. (As usual)
Stuart
June 01,2019
She's great. As always.
Ulli
May 30,2019
As always, great haircut by Elizabeth. The new Westhampton salon is fabulous, too. :)
Jim
May 25,2019
Liz is always awesome-
Kevin
May 24,2019
Love my haircut ! Elizabeth is the best !
Alton
May 21,2019
Great!!!
Russ
May 21,2019
Elizabeth is the best!
Amanda
May 17,2019
Elizabeth is wonderful! I love my new haircut!
Danny
May 03,2019
Very professional, friendly, top of the line haircut.
Kathy
October 20,2018
Love Elizabeth. She always does a great job mixing art and science of hair care.
Judith
October 18,2018
Excellent!
Katie
October 16,2018
Liz is the best!
Ulli
October 09,2018
As always, very happy with the cut and the service.
Sylvia
September 29,2018
Elizabeth is a creative and careful stylist, and I love how she cuts my hair. Sylvia
Allison
September 14,2018
She took a lot of time listening and interpreting what I wanted and made sure to explain back what she heard to ensure she was accurately understanding me. I have a great haircut!
Marshall
September 14,2018
Elizabeth does an excellent job with my hair and always does so in a cheerful manner
Ulli
September 04,2018
Always a great experience! Elizabeth is the best.
Kevin
August 24,2018
Love my haricut ! Thank you Elizabeth your the best !
Judith
August 23,2018
Excellent... best haircut I have had at Mango!
Jay
August 22,2018
Awesome as always
Suzanne
August 17,2018
Wonderful experience. Elizabeth produced exactly the look I wanted.
Ulli
August 01,2018
Elizabeth is the BEST! I always come away with a perfect haircut and am never disappointed.
Jeannie
July 28,2018
Amazing
Jeannie
July 28,2018
Perfect
Jeannie
July 28,2018
Expert
Maureen
July 11,2018
Great job!
Maureen
July 11,2018
Love the color.
Alexis
June 19,2018
I love the color she does. She knows the exact color and placement to bring out the best look possible.
Alexis
June 19,2018
No one has ever done a better job on cutting my hair. A true master.
Christy
June 19,2018
Fantastic!!
Sarah E.
June 15,2018
Elizabeth is very thorough. Very careful in cutting and ensuring consistency all around!
Sarah E.
June 15,2018
Elizabeth is very thorough.
Kevin
June 13,2018
I love me haircut ! Elizabeth is the best !
Christy
June 01,2018
Always great!!
Susan
May 26,2018
Elizabeth is professional, friendly and efficient. She has a confident and dedicated energy that put me at ease about trying a new stylist. Highly recommend her to my friends!
Karen
May 24,2018
Excellent hair cut as usual. Elizabeth is great at listening to my ideas but gives me suggestions to help me have the hair that works for my lifestyle. Highly recommend her!
Allison
May 23,2018
Elizabeth is absolutely wonderful. I recommend her to everyone. Best stylist ever!!
Michael
May 22,2018
Friendly, great cut.
Charles
May 18,2018
Always a pleasure to have a hair cut from Elizabeth
Sarah
February 22,2018
Color looks great!
Stephanie
February 01,2018
I love going to Mango to get my hair done. I actually go to Mango because that's where Elizabeth works. I followed her from the other salon in which she worked. I have known Elizabeth since before she started doing hair and when she made the career change I started going to her do my hair. Since Elizabeth transferred to Mango, her skills have improved 10 fold! The biggest changes I've noticed have been in Elizabeth's confidence in herself and her speed. She doesn't seem to spend time second guessing herself and, thus, her overall work is more finished and clean. Mango has been instrumental in shaping her into a professional hair designer I can't live without! Everywhere I go, people are always complimenting me on my cut and color! I tell them to go see Elizabeth at Mango! I also want to say that I love seeing how well the Mango team works together and helps each other out! It makes for a nice atmosphere for the customer.
Ulli
January 30,2018
Always a pleasant experience, from checking in, to Elizabeth's haircut, to booking next appointment.
Joyce
January 29,2018
Listened. Tried to match my expectations
Sharon
December 02,2017
Everything is well done from check-in to check out. Elizabeth is terrific at listening to my needs and taking care to satisfy them.
Howard
November 18,2017
Elizabeth is wonderful!
Ulli
November 16,2017
A very pleasant experience, as usual. Elizabeth is the best!
Margaret (Meg)
November 15,2017
Your staff is polite, courteous, attentive and makes the customer feel appreciated.
Sarah
November 09,2017
Great experience from start to finish! Thanks!
Stuart
November 03,2017
Elizabeth is great. Warm, happy and fun.
Martha
November 03,2017
hair cut
Allison
October 03,2017
She listens and helps you figure out what to do next. She's great with educating me about products and telling me which ones would work best with my hair and how to use them. She is such a pleasure to be around and is always so enthusiastic. Great employee for Mango.
Jan
September 26,2017
Revamped my layers Elizabeth is the best!
Allison
September 21,2017
I really liked Elizabeth's ideas to change up my look and she did a great job bringing the vision to life!
Kelly
September 09,2017
Elizabeth is the best. She asks all the right questions before changing a cut or color and nails it every time!
Christy
September 08,2017
Elizabeth did an amazing job. Thanks!
Debby
September 06,2017
Elizabeth was attentive and patient. She exhibited an extreme level of excellence!
Sarah
August 31,2017
Great experience from start to finish! Thanks so much!
Allison
August 30,2017
Elizabeth is just great. She's so nice and so helpful!!
Howard
August 17,2017
Elizabeth is wonderful! Nice environment and staff very friendly.
Pam
August 13,2017
I loved all of the positive attention! I loved, loved the way Elizabeth did my hair! Madi was great too!
Allison
August 02,2017
Elizabeth was great. She listened and was knowledgeable when I asked questions. Loved her! Will come back.
Joyce
July 31,2017
Elizabeth took time before my shampoo to evaluate my hair and listened to my concerns. She was personable, professional, and gave me a great haircut. This was my first visit to Mango for my hair. Loved the scalp and hand massages Jessica gave me!
Sarah
July 28,2017
Terrific color & cut. Thanks!
Betsy
July 26,2017
Elizabeth spent a lot of time listening to what I wanted in a haircut.
Stephen
July 02,2017
Elizabeth is always friendly and happy and does great work. She is the best!
Ulli
June 30,2017
I always have a great experience at Mango Salon. Elizabeth is the BEST! I am never disappointed in my haircut.
Stephanie
June 29,2017
Excellent customer service! Excellent cut! Thanks again!
Howard
June 28,2017
Great experience. Elizabeth is wonderful!
Marilyn W.
June 27,2017
Allowed flexibility when I was trying to keep my appointment on time, but totally forgot my wallet. Everyone was very understanding.
Sarah
June 20,2017
Great color and cut!
Mary Ann
June 16,2017
She listened and asked good questions and got my agreement to her approach.
Jim
June 15,2017
Elizabeth was personable and professional. She did a great job.
Christy
May 25,2017
On time Great service
Vicki
May 24,2017
It was a very good experience from the wash and hand massage to a great cut!!
Lauri
May 20,2017
As always a welcome and relaxing experience. The shampoo and massage is always the best part.
Stuart
April 29,2017
Elizabeth is great.
Emilie
April 27,2017
Elizabeth is ALWAYS on time!
Lou Anne
April 20,2017
Everything was perfect. I had missed my appointment the day before so I was happy to get an appointment. Elizabeth isn't my usual stylist but she thoughtfully reviewed my records and executed beautifully.
Jim
April 19,2017
Appointment was on time and Elizabeth was very pleasant
Vicki
April 19,2017
Elizabeth was wonderful and took a great deal of time with my cut!
Stephanie
April 15,2017
The new girl, Mallory (I'm not sure if that's her name), did a wonderful shampoo and massage! She was friendly and polite!
Sarah
April 13,2017
Great color, cut, and style, as always! Thank you!
Ulli
April 12,2017
Love coming to Mango! Everybody is so friendly and professional. And Elizabeth is just the best! I am never disappointed with my haircut.
Isabelle
March 26,2017
Elizabeth is great. She listens and gives great suggestions.
Emilie
March 22,2017
I love the new larger cups for the tea!
Sharon
March 15,2017
Mango at Libbie and Grove is always welcoming. Appointments run on the appropriate schedule. Elizabeth was very willing to discuss what I wanted and make sure it got done.
Kirstine
February 19,2017
Elizabeth did an amazing job and went above and beyond.
Bill
February 15,2017
Elizabeth is terrific. She always gets it right!
Ulli
February 04,2017
Always such a pleasant experience coming to your salon. Everyone is so friendly and Elizabeth is simply the best!
Emilie
January 26,2017
Elizabeth is always super duper friendly, very professional, and extremely innovative.
Lindsey
December 02,2016
You guys were super flexible and I so appreciate it. I came in for a blow out and arrived a few minutes early. My stylist was able to squeeze in a cut which was SO helpful for me! Hair looks great, thanks!
Emilie
December 02,2016
Elizabeth is always so careful with my delicate hair!
Casey L.
November 17,2016
Elizabeth was awesome - I was not really sure what I wanted and I was not being very decisive, but she asked the right questions and made the right judgment calls so that my hair turned out exactly how I wanted it! Couldn't be happier. Everything ran on time and was smooth and very enjoyable. Thank you!
Peggie
November 02,2016
I had an excellent experience! Everyone was extremely friendly starting with the ladies that greeted me. Even though this was my first visit I felt very "at home" Elizabeth was a great listener and made the effort to inquire about my preferences. She is very talented and I am thrilled with my cut and color. The parking details sent with the email confirmation was very helpful and saved me the frustration of finding a place to park.
Kate
October 28,2016
I had to keep changing my appointment because of some surgery and you all were so helpful and concerned. Thank you! Elizabeth did an awesome job today!!!
Sharon
October 04,2016
Everything is done well.
Kirstine
October 03,2016
Elizabeth is the best
James
September 20,2016
You were very attentive and caring towards my needs and comfort. Also did a wonderful job with my cut and color!
Andrew
September 12,2016
Had a great haircut with Elizabeth and will be back!!
Barbara
September 08,2016
I even had to change my appointment at the last minute and Andrea was sooooo helpful. Elizabeth would've stayed all night if needed to get the color to her satisfaction. Thumbs up all the way around.
Ulli
September 02,2016
I'm so glad Elizabeth is my stylist. She knows exactly how to cut my hair and I have never been unhappy about my cut. She is great!
Christi
August 29,2016
Great job!
Sharon
August 10,2016
I booked on line and, when the stylist was no longer available, you called, discussed my options, and found a different stylist for me. Elizabeth Keith was terrific, and I love how she did my hair.
Emma
August 10,2016
Elizabeth did an AMAZING job!
Brenda
July 19,2016
On time. Perfect color. Cheerful, affable, upbeat atmosphere.
Ulli
June 28,2016
Everyone from checking in to checking out is so friendly and efficient. And I really lucked out with my stylist, Elizabeth! She is wonderful and knows exactly what I want done. Elizabeth is always in a good mood, takes her time with my cut and makes my visit to Mango a very pleasant experience every time.
Lisa
June 24,2016
Everything. the reminders are helpful. The cut and color were great. Staff was attentive and it moved along well.
Marty
June 13,2016
Booking is easy when you have so many talented stylists. This was my first time seeing Elizabeth. Great haircut.
Elizabeth
June 01,2016
Loved Elizabeth!
Matt
May 23,2016
Excellent service as always
Liz
May 22,2016
great location and ambiance! Elizabeth was wonderful.
Kaky
May 20,2016
Lauren and Elizabeth were awesome filling in for Sarah, who was sick today! Thank you!
Brenda
May 18,2016
The color adjustment is perfect.