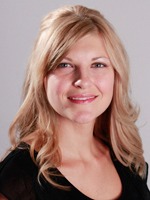 Jessica
Designer 4 Gayton Crossing
Education
Advanced Men's Cutting w/ Michael Pavlick
Dimensional Color w/ Jimmy Girgenti
Haircolor Magic: Power Paint w/ Jimmy Girgenti
New Color Trends w/ Ian Michael Black
Short Hair Cutting w/ Hauns Korpela
I was drawn to hair design because it provided an opportunity to connect with people and create something beautiful every day. It's an exciting career because it is constantly evolving. Staying current keeps things exciting for me and my guests. I challenge myself with each appointment to make that guest's day a little better!
BIT ABOUT ME One of my favorite sayings is "Life is an echo. What you send out comes back to you."
Tomas
March 02,2018
Great customer service, and Jessica was great as always.
Gene C.
January 30,2018
Great cut! Staff are very nice!!!
Stuart
January 29,2018
I like Jessica, have been coming to her for years, only reason I come to Mango, although everything else if fine there.
Trish
November 30,2017
Jessica is wonderful! A great stylist that's able to work very well with difficult hair!
Gene C.
November 03,2017
A Pleasure!
Marybeth
October 16,2017
Everything was great as usual! I love love love Jessica and the care and attention she gives me. It's like a spa day
Gene C.
October 12,2017
She is great!
Allison
October 12,2017
always great!
Ingrida
October 11,2017
Jessica is always wonderful! She does a perfect job! She makes me 10 years younger and I'm always leaving with a big smile. Thank you!
Jan
October 05,2017
Welcoming when I arrived. Friendly staff. relaxed atmosphere Love Jessica. Trust her with my hair cut and color. She is creative. Friendly. Upbeat. Outgoing. Cares about her craft and her clients.
Allison
September 29,2017
Jessica is a great stylist and colorist!!!
Rita
September 15,2017
Excellente❣️
Trish
September 09,2017
Jessica is amazing! Knows how to cut difficult hair.
Ed
September 07,2017
Jessica is great!
Kinsey
September 02,2017
Jessica is the best! Always a treat to come in!
Trish
July 28,2017
Jessica rocks! She's just amazing.
Morgan
July 07,2017
Every visit to Mango, and Jessica, is absolutely wonderful!
Joanna
July 07,2017
Jessica is the best!
Allison
July 07,2017
She always rocks. Plus, I appreciated that her schedule worked out that she could end up drying and styling me since I had a last minute date night!
Sarah
June 15,2017
Friendly greeting, stylist greeted me prior to shampoo to look at hair, good discussion on what I wanted.
Carrie
June 09,2017
Jessica is always a pleasure and my hair looks fantastic!! Saw my parents tonight and they looooved the cut.
Samantha
June 08,2017
I love Jessica! I've been going to her for years and she gets me and my hair styles better than anyone I've ever been to. She listens to my hair quirk concerns and even goes along with my extra request for more thinning/cutting than she'd prefer, but I always walk away so happy with how I look. She's so personable and easy to chat with and I look forward to my appointments with her well in advance
Allison
June 02,2017
Jessica did a great job with my hair tonight!!
Whitney
June 01,2017
Has done a fantastic job twice now!
Jeff
June 01,2017
Jessica has adjusted to a shorter length over the past few haircuts as I've asked and she did it really well. I've liked all my hair cuts with her but this time I feel like we got to the perfect length. She's super friendly and skilled and it's a pleasure having my hair cut by her. I also really enjoy the shampoo and men's facial I get when I come here.
Jackie
May 19,2017
Got me in to see Jessica without a delay.
Rita
May 19,2017
Perfect
Bonnie
May 18,2017
Jessica is perfect, I have been with her for 14 years!
Tracy A
May 05,2017
Jessica is a sweetheart. No complaints ever. She's the reason I come back again and again.
Jennifer
April 28,2017
She listens and makes an effort to do exactly what I ask and it turned out beautifully
Trish
April 28,2017
Jessica is an absolutely amazing stylist. She's talented, creative and personable. Mango is lucky to have her!
Jackie
April 22,2017
Consistent great customer care
Ed
April 21,2017
Everything - Jessica is fantastic!
Lucy
April 13,2017
Jessica always does a great job with my color and my cut. I always feel ten years younger after I leave the salon :)
Carrie
April 07,2017
Love haircuts with Jessica! She's the best!
Wende
March 28,2017
always happy faces when you walk in. Jessica is very personable and really takes her time to cut your hair. She has taught me how to blow dry my hair with success.
Sarah
March 18,2017
Always a wonderful experience. So enjoy coming to the salon and just love Jessica. She is such a professional
Rita
March 17,2017
Beautiful hairdo, kind staff.
Susan
December 02,2016
Always friendly & efficient servicing at booking & checkout. Jessica Yerkic is an amazing stylist and colorist; I always leave refreshed and looking good. I love getting the compliments from friends and strangers alike.
Carrie
November 17,2016
I had a fantastic appointment with Jessica! I quickly mentioned I'd unsuccessfully tried to curl my hair with a curling rod. At the end of my appointment, Jessica taught me how to do it and curled my whole head of hair. The cut was already great - but getting to try a new look (with a tutorial) was such a treat.
Rita
August 27,2016
Sent email reminder Served coffee with half and half Started on time Hair was beautiful