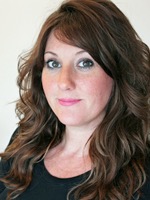 Amy
Designer 4 Gayton Crossing
Education
Advanced Balayage w/ Jimmy Girgenti
Core Cutting w/ Ricardo Dinis
Double Process Lightening w/ Jimmy Girgenti
Full Spectrum Deep Color Fusion w/ Jimmy Girgenti
Gray Coverage w/ Jimmy Girgenti
LearnAveda w/ Hauns Korpela
New Color Trends w/ Ian Michael Black
Short Hair Cutting w/ Hauns Korpela
Technical Textures w/ Hauns Korpela
Geo Prisms Cut & Color
I've been working in the beauty industry for over ten years. I started at the Staunton School of Cosmetology and have been at Mango Salon ever since. The best part of my career is that it allows me to express my creativity while having an impact on guests. Staying on top of trends and advancing my technical skills through education have been key components of my growth as a Designer. I enjoy working with curly hair and I have a knack for men's cuts.
BIT ABOUT ME I like to share my creativity with my son. Painting and coloring is always a fun activity. I think it's important to exercise your creativity as much as possible. You never know where you'll find inspiration.
Beth M.
March 03,2018
Everyone was very friendly and helpful.
Barlan
March 02,2018
Amy is great. I love how I just need to sit down in the chair and she knows what haircut I need without me needing to tell her. She has won over my trust from my first appointment. Besides the hair cut, I really enjoy the hair washing experience.
Valaria
February 22,2018
Excellent cut. I love it and the highlights. Amy is excellent.
Bill
February 06,2018
Quick, friendly aim to please
Susan
February 02,2018
Amy is so friendly and gave me some good tips on styling my hair which, being 'hair-challenged", I really appreciate. After being with Marina (wonderful) for several years, switching to Amy has been painless and fun.
Sarah
January 29,2018
I love Amy! She is personable, has awesome ideas for my hair. I TRUST her and take her advise, comes out great every time. She is kind, caring, and allows me to fall asleep in her chair- haha! She is a thoughtful person.
Catherine
December 05,2017
Amy's expertise shines through in her customer care and beautiful final product. Her work is worth every penny!!
Ellen
December 05,2017
Outstanding as always
Annie
December 05,2017
polite, easy conversation with stylist GREAT head massage during shampoo hair looks the best it's ever looked atmosphere very calm and relaxing-- not so busy on Mondays which was nice. i didn't feel like i was being juggled around other clients.
Bill
December 03,2017
Amy is the BEST!
Hanke
December 02,2017
Amy is a true artist, I will happily see her again...
David
November 18,2017
Amy best as always!!
Bill
November 14,2017
As usual, it was good and easy
Beth
November 10,2017
Everyone is so pleasant and professional, every time. It doesn't matter how hip or not you are, how stylish - the emphasis is on making you feel welcomed and helping you look your best in the way you prefer. Amy is totally awesome - I can't say enough about her skill, passion, attention to detail. It is clear that she cares the same about every client, taking extra time and care to do the job right. And she always gets it right, including new product recommendations that are perfect for me. I am so grateful I found you all and, especially, for Amy!
Susan
November 09,2017
Everyone was friendly and courteous as usual; how nice to enter a shop where everyone speaks and has a smile.
Jackie
November 09,2017
All employees who work there are very friendly and the place is beautiful.
Penny
November 07,2017
Excellent experience every time.
Carla
November 06,2017
Every one is so nice and just love coming here! Amy is great and so are all the girls who work there...
Valaria
October 24,2017
I am happy that Amy was willing to try a new color technique. Turned out beautifully.
Megan
October 19,2017
Friendly and efficient service in a relaxing atmosphere!
Bill
October 17,2017
Prompt and friendly
Rose
October 14,2017
Amy is amazing!!! Love her!
Patsy
October 12,2017
Amy always does a perfect job for me. She truly understands my hair and how it behaves. She is a master for sure.
Beth
October 06,2017
Amy is a master! I don't know what more I can say. Pure mastery, and so incredibly pleasant, professional, and fun, too! Everyone at the salon is great, but did I mention Amy is a genius?,
Matt
October 06,2017
Amy is hyper engaged in MY vision for my desired haircut.
Susan
October 06,2017
Everyone was so friendly and helpful. It is always a pleasure coming to the Gaskins Road salon; very relaxing (at least in the a.m.) and enjoyable.
Carla
October 05,2017
As Always.. Amy is the best!!! Thank you!
Caroline
September 28,2017
Amy gave me a great haircut! She listened to what I wanted and didn't want and totally got it. Thanks, Amy!
Heather
September 28,2017
Everything- I moved to northern Virginia and still drive 3 hours to come to this awessome place!
Bill
September 21,2017
It was of the highest standard. Thanks
Katy
September 12,2017
Love getting my hair done with Amy. She's the best!
Johanna
September 10,2017
Amy spent considerable time with me to ensure my color and cut were just right. The shampoo experience was wonderful.
Carla
September 07,2017
Always gets the details and knows to how to cut short hair!!
Cindy
August 24,2017
very friendly and professional
Melanie
August 18,2017
I enjoyed the time we spent review the best length for my hair. Everyone was helpful, friendly and very nice.
Bill
August 18,2017
Super experience; always consistent
Dusty
August 15,2017
Amy is a professional and a delight to seat her chair with her capable scissors.
Carla
August 08,2017
Amy is Great..Listens and does a very good job... especially if you have short hair.. curly hair...she has a great eye. Always friendly..a pleasure.
Bill
July 31,2017
Prompt, friendly. All staff have a smile on their faces.
Penny
July 28,2017
Excellent as always.
Mark
July 28,2017
Wash and facial were relaxing
Patsy
July 13,2017
Amy does everything extremely well. She takes the time to really listen to you and also to get to know your :"hair". Having very thick hair that is curly underneath has been a challenge for me and other hairdressers. Amy has accepted the challenge and has managed to make it so easy for me to maintain. She is a wonderful human being and I just love her to pieces. I told her she was not allowed to ever go away as I would never be able to find another Amy!
Beth
June 23,2017
Amy is totally awesome! An amazing talent who continues to give me the best haircuts I've ever had - and that covers many decades. Thank you!
Becky
June 22,2017
everything
Rob
June 15,2017
Amy is wonderful. Attention to detail and a great conversationalist. Love her!
Kevin
June 08,2017
Amy is awesome, very thorough and consistent! I've had a lot of bad experiences at different places, but she does a great job!
Allison
June 01,2017
Everything was excellent, including: booking the appointment, to walking in and being greeted by Rachel, as well as the shampoo, cut, and style with Amy.
Bill
May 30,2017
I am never disappointed
Henry
May 23,2017
Always a pleasant experience, and welcoming.
Sharon
May 08,2017
1. Amy called me before my appointment due to me being 2 hrs. out.. so professional 2. Amy listened to what I wanted and then gave her advice to achieve it as well as her advice on what not to do. 3. I was made to feel like my time was valued the service I received shown in that.
Sharon
May 07,2017
Great first experience with Amy. She gave me personal time to really know what I was looking for and also what she thought I would do well with.
Suzanne
May 04,2017
Amy is always positive, professional, and efficient-- much appreciated!
Matt
May 03,2017
Welcome by Elizabeth, Attention to Detail by Amy
Bill
May 02,2017
The usual excellent treatment!
Clint
April 29,2017
It was a really great experience from the time I walked in the door until the time I walked out. Everyone was welcoming, and Amy did a fantastic job.
Sarah
April 25,2017
Amy is the best! Super patient and stays late to accommodate after school schedules and the haircuts are always awesome and perfect for each kid's crazy hair!
Catherine
April 22,2017
Collaborative process between stylist and client is essential to a successful salon visit, this is a standard at Mango that I very much appreciate.
Beth
April 21,2017
Amy is Awesome! The best ever, and I've been getting my hair cut/styled for a really long time. Great stylist, very attentive to my needs, and a friendly and welcoming salon with terrific products.
Carolyn
April 20,2017
everything... Amy's awesome.
Victoria
April 12,2017
Exactly what I wanted, asked detailed discovery questions, and made me feel amazing!
Bill
April 11,2017
As always tall went great
Megan
April 11,2017
timelessness, atmosphere, employee friendliness
Lynn
April 11,2017
Amy did an EXCELLENT JOB! I love my hair!
Penny
April 10,2017
Receive compliments on my hair everywhere I go! My appointment is always a pleasure.
Lisa
April 07,2017
Perfection
Patsy
March 29,2017
Amy took the time from the first time I walked in the door and explained about my complicated very thick hair. She was so professional and listened to my concerns, what i was going for and my expectations. She has exceeded every expectation I've ever had. She also educates other stylists who work on my hair (wash and blowdry) when she can't do it. Everyone at Mango/Gayton Crossing is fantastic and very professional. They care about their clients and look after them very well.Love the hand massages. I'm very spoiled now.
Robin
March 29,2017
Amy listened to what I wanted and about hair type
Ann
March 28,2017
Amy did a great job! I was very pleased with toned highlights.
Gaylynn
March 24,2017
Amy is excellent - efficient and professional.
Erin
March 14,2017
Amy is always very pleasant and easy to talk to.
Suzanne
March 01,2017
Amy does a great job.
Lynn
February 22,2017
Amy did an Incredible Job! LOVE my hair!!!
Bill
February 14,2017
Right on time. Alway friendly
Monique
February 11,2017
Very satisfied
Gaylynn
February 01,2017
Efficient response, very talented stylist.
Penny
February 01,2017
Everything done well. I receive compliments wherever I go.
Merida
December 04,2016
Emily and Amy were so kind and patience with my 84 year old mother today!! Thank You
Beth
December 01,2016
Amy is awesome, a master with short hair, and it is clear she truly loves what she does and really cares about her work and her clients. Couldn't be better!
Paul
November 28,2016
Moved back to Richmond. Never felt like I was ever gone. Glad to be back.
Penny
November 23,2016
My whole experience as usual is top notch. Don't see any area needing improvement.
Georgiana
November 21,2016
Amy was very professional and competent. My perm turned out very pretty .
Bill
November 21,2016
Another great experience.
Megan
November 19,2016
timeliness, quality of service, honesty -- staff called me to tell me I'd been overcharged and offered to refund the amount or add a credit to my account.
Bill
October 25,2016
Treated like family
Beth
October 21,2016
Everyone is so pleasant and attentive, and my stylist (Amy) is the absolute best with my challenging, crazy short hair. Not only are the styles perfect for me, and she puts a lot of time, thought, and effort into it, but she has recommended perfect products that make my life much easier. So glad I found her!
Lynn
October 12,2016
Amy did a great job!
David
October 10,2016
Amy is a grand slam!!
Cindy
October 08,2016
very professional and friendly
Bill
September 26,2016
On time and treated like family
Penny
September 24,2016
My experience was delightful as usual. A fabulous haircut and professional staff make my day.
Maria
September 16,2016
It was awesome, as always. I really appreciate Mango, it's always clean, full of pleasant staff and my stylist Amy always makes me look great! Thanks!
Mary
September 16,2016
This was my first time at the Gayton location as my stylist at Libbie and Grove moved away. Amy was GREAT. She listened to my needs and did a great job on my hair. I was nervous about changing stylists after 8 years, but not anymore. The girl at the front desk gave me a tour and made me feel right at home.
Amanda
September 09,2016
Polite, nice people. Wonderful job with shampoo, head massage, hand massage & hair dry. Calming & relaxing experience.
Bill
August 29,2016
Took me ahead of time. Told me I had an award available. Thanks
Kim
August 29,2016
Amy did a fantastic job! She really transformed my hair, I love it!!
David
August 29,2016
Amy absolute best ever!!!
Megan
August 17,2016
Timeliness, friendly staff
Penny
August 16,2016
It is always a pleasurable experience.
Lynn
August 16,2016
Amy did a GREAT GREAT job!
Beth
August 11,2016
Pleasant, professional atmosphere and service, minimal weight time. And a stylist who is totally awesome! Excellent experience on all levels. Did I mention my stylist, Amy W., is awesome?
Maria
August 03,2016
Amy did a spectacular job with my color.
Lynn
August 02,2016
Amy did a GREAT JOB & she has a good personality!
Penny
June 07,2016
Excellent service from when I walked in the door to when I left.
Beth
June 04,2016
Amy Wiggins is amazing! I have really short hair, and she not only knows what to do with it it clearly enjoys her work. I am a new client, and she has been very attentive to learning what I want and expect and takes great effort to provide me with a stunning hairstyle that meets my needs. She also is knowledgeable about products and finishing. I feel very fortunate to have found her!
Sarah
June 04,2016
Service is always pleasant and quick but I never feel hurried. I love Amy! She does a fabulous job with my mane every appointment. Obviously I'll be returning!
Bill
May 31,2016
I was treated like family, as always
David
May 23,2016
Amy is just the best.
Megan
May 13,2016
Attentive staff!