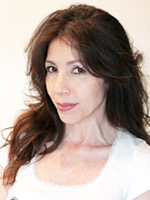 Jaime
Designer 4 Gayton Crossing
Education
Advanced Men's Cutting w/ Michael Pavlick
Balayage w/ Katia Ocampo
Full Spectrum Deep Color Fusion w/ Jimmy Girgenti
Short Hair Cutting w/ Hauns Korpela
I'm a graduate of the Aveda Institute in Minneapolis, MN and have spent my 20 year career working on my craft through participating in hair shows, taking advanced classes and styling diverse hair types at Mango. The best part of being a Designer is getting a chance to work with everyone's unique and wonderful features. I love bringing out the natural beauty of guests at every age.
BIT ABOUT ME I'm a patient person who feels fortunate to be a part of a family with strong female role models.

Heather
October 27,2018
Jaime always does a wonderful and thorough job on my hair. Very personable and knowledgeable.
Sally
October 25,2018
As always superb shampoo and blowdry--great trim for my fast-growing hair:))
Ann E
October 12,2018
Jamie did an excellent job. She is a lovely person too. Very gentle and professional. I highly recommend her.
Ann E
October 12,2018
Great job!
Robin
October 02,2018
Perfect cut as always! Looks and feels great! Thanks Jaime.
Robin
October 02,2018
Jaime is an artist and a magician. She consistently makes my hair color look natural and beautiful with the color balance system.
Sally
September 29,2018
Excellent!
Sally
September 29,2018
Great as usual
Kendra
September 22,2018
Wonderful! Terrific cut!
Patty
September 19,2018
Always does a great job!
David
August 11,2018
Jamie is the best!
Paige
July 28,2018
Jaime did a great job listening to what I wanted. My hair looks great!
Sally
July 27,2018
Great!
Sally L.
July 20,2018
Jaime EXCELLENT Great stylist! A+++
Carol
July 10,2018
Wouldn't dream of getting my eyebrows waxed by anyone else!!
Debbie
July 10,2018
New cut is great!
Debbie
July 10,2018
She gets me
Debbie
July 10,2018
She nails it!
Debbie
July 10,2018
Excellent
Debbie
July 10,2018
Luv the treatment- makes my hair so soft
Pam
July 07,2018
She is a perfectionist! And very personable
Mark
June 30,2018
Great, thanks!
Sally
June 08,2018
Great, as always!
Sally
June 08,2018
Excellent!
Sally
June 08,2018
Great job!
Connie
June 01,2018
Totally love new cut and hair color!
Faith
May 26,2018
You can't get a better hair stylist. She is such an expert.
Faith
May 26,2018
Jaime is the best!
Bj
May 22,2018
Jaime is totally awesome..no one has touched my hair but Karen for appx 15 yrs....Jaime read all of Karen's notes. She put me at ease...so sweet and professional. The salon had a laid back vibe...as did Jaime. Love my color and cut! Great experience.
Mark
February 07,2018
Jamie does a great job!
Cindy
December 04,2017
Always very thorough and professional.
Maureen
November 29,2017
Jaime always knows the best thing for me and I am so happy with my hair!
Cindy
October 24,2017
Very thorough and professional
Rick
September 30,2017
Personal care and attention to details is always wonderful. Have been Jamie's customer for 15 to 20 years!
Karen
September 25,2017
very talented stylist
Sally
September 13,2017
Fantastic haircut by Jaime at Gayton! And blowdry. She is master of a great blow-dry!
Heather
September 09,2017
Jaime always does a great job coloring my hair and giving me the color and cut that I want!
Debbie
August 28,2017
Jaime has excellent color, cutting and styling skills!
Karen
August 15,2017
Excellent customer service. Both from the booking to the consultant. Loved that you wanted to know what was important to me. I enjoyed the hand message too. It was a relaxing pleasurable experience.
Pam
August 04,2017
Everyone was attentive, polite and helpful.
Sally
August 03,2017
Everything:)
Sally
July 25,2017
Jaime is a gifted stylist! Does great job with my hair. Threading today too. A++++
Katie
June 27,2017
Jaime is delightful in every way. I never have to tell her what I want. I just trust she will update my style with colors and cuts that are on-trend.
Cindy
June 26,2017
very friendly and professional
Robin
June 16,2017
As always, I was greeted warmly; staff ensured my comfort during my appointment; and my stylist took time to listen and to carry out, perfectly, changes in hair color and my new short haircut.
Cindy
June 05,2017
She is very meticulous. Very friendly and professional.
Marilyn
May 31,2017
Jaime was wonderful as always. Ashanti was wonderful with shampoo and massage. Everyone in salon was friendly as usual.
Kelly
May 21,2017
Always enjoy my time in the chair and leave feeling great.
Roberta
May 12,2017
Jamie has worked with me for over a decade--she is wonderful!
Ann
May 09,2017
Everything. It was a very pleasant experience.
Sally
May 07,2017
Jaime is fabulous with threading...! Always fantastic job
Sally
April 20,2017
Easy booking (although got mixed up with my mom)---which was actually my mistake. Glad I caught it. I realized I wasn't getting confirmations from ya'll and checked it out. She was getting confirmations and thought she had an appt when I was one with appt! Got it worked out. I usually give name of Sally and said Sarah this time (my legal name)---won't do that again! Ha! Jaime continues to do great job with my hair---both cut, color, blow-dry. Best stylist at Mango along with Bobbi, of course!
Tracy
March 28,2017
Jaime always does an excellent job on both cut and color!
Ann
March 28,2017
My consultation with Jaime was wonderful. She was very professional and wanted to understand my hair problems and what could be done to correct them. I was very pleased and I will make an appointment with Jaime in May.
Sally
March 24,2017
Jaime is an excellent stylist and Mango is lucky to have her. Superb!
Cindy
March 23,2017
A very thorough, fabulous job!
Sally
January 26,2017
Everything
Vicki
December 09,2016
My stylist Jaime H is AMAZING. My hair looks fantastic and I always get compliments on it. I always recommend Mango and all of its stylists.
Jacki
December 03,2016
Everyone is always friendly!
Susie
November 15,2016
Great color, great cut!!
Marilyn
October 25,2016
Jamie did wonderful color, cut,shampoo and threading!!
Sally
October 15,2016
Everything!
Sally
October 14,2016
Great!
Ruth
October 11,2016
Friendly greeting. Jamie always asks how the color and cut is working and makes suggestions that are very helpful. Cut and color are always high quality
Marilyn
September 28,2016
Jamie was wonderful - gave me a very stylish look! She also washed my hair and gave a wonderful massage.
Jacki
August 17,2016
Everyone is always friendly and professional.
Preston
June 08,2016
Everything. Jaime is great at color and cut. It's always a relaxing experience, especially at Gayton.
Linda
June 01,2016
I always enjoy my Mango appointments. Jamie is great. My hair cut and color have never looked better.
Becky
May 26,2016
Love Jamie...she does a great job with my eyebrows...she's a very nice and fun person to be with.
Sally S.
May 18,2016
Ya'll are doing great:))I love the Gayton salon btw. Front desk folks were great. Stylist was great---She did what I needed to have done well today.
Mary
May 14,2016
love mango & love Jaime