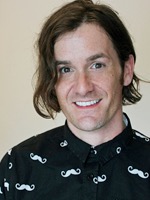 Michael
Designer 3 Gayton Crossing
Education
Advanced Razor Cutting w/ Bit
Balayage w/ Jimmy Girgenti
Full Spectrum Deep Color Fusion w/ Jimmy Girgenti
LearnAveda w/ Hauns Korpela
Technical Textures w/ Hauns Korpela
After receiving my Bachelors degree in 2005, I spent several years in restaurant management. I decided to get back to my creative roots by attending cosmetology school. In 2012, I graduated and launched my new career in Mango's Fresh Talent Program. Today, as a Designer, working with color and wearing color are two of my favorite things. I've completed numerous Aveda color courses over the years, including a Master Color Series.
BIT ABOUT ME In my free time, I love to read and collect vintage comic books from the 60's. I always enjoy a good laugh with my coworkers and guests!
Jakie
November 06,2018
Michael rocks. Plus his massages are the best!
Jakie
November 06,2018
Michael is the BEST!
Alli
October 26,2018
Fabulous!
Alli
October 26,2018
Fabulous!!
Sue
October 23,2018
Michael did amazing work as usual! The staff is always friendly and professional. Love Mango at Gayton Crossing!
Amity
October 18,2018
Great head and hand massage. Perfect cut!
Amity
October 18,2018
Confident evaluation and plan
Donna
October 18,2018
Awesome guy; awesome haircut!
Debbie
October 16,2018
A very enjoyable appointment with Michael!!
Cary
October 11,2018
Wonderful, as always!
AJ
October 03,2018
Absolutely fantastic cut.....love it!! Michael took into consideration everything we talked about during the consultation and then put his own special touch to it.
AJ
October 03,2018
Best consultation I've ever had!!! Explained things in laymen's terms and was patient with all my questions!!
AJ
October 03,2018
Love the color and it's named after my favorite food......chocolate
Cheryl
September 25,2018
Michael is the BEST!!!!
Diane M.
September 20,2018
Very kind & gentle. Listens to client. My hair looks great. Thank you so much.
Kelane
September 07,2018
My hair looks and feels amazing!
Kelane
September 07,2018
He knew exactly what I wanted done with my hair
Cheryl
September 01,2018
Michael is the Best!!!
Douglas
August 28,2018
Always a great haircut!
Stacie
August 18,2018
Beyond amazing!
Stacie
August 18,2018
Great!
Stacie
August 18,2018
Awesome
Adelia
August 17,2018
The best cut I ever had!
Sharon
August 11,2018
Michael does a fantastic job of giving me the style that I am looking for. His work is consistently very good!
Ron
August 10,2018
Great
Heather
August 09,2018
Michael always does a great job. I do miss him washing my hair since he does such a great job.
Heather
July 18,2018
Excellent as always!
Sara
July 17,2018
The color looks great but Michael only did the roots and someone else finished and washed my hair.
Lauren E.
July 14,2018
I liked the way he thinned out my hair.
Debbie
July 14,2018
Michael was kind enough to take me at the last minute when he finished with my daughter's appointment. Wonderful service as always!!
Ron
July 13,2018
Great
Sue
July 10,2018
Michael is awesome! He is very knowledgeable, professional and friendly.
Jill
June 26,2018
I have always been extremely satisfied with the entire experience from shampoo to cut. Michael is an amazing stylist!
Jack
June 26,2018
The best
Nancy
June 16,2018
Michael is GREAT!!!!!
Veronica
June 15,2018
I loved my hair! Thanks so much! :)
Ron
June 15,2018
Great
Beth
June 14,2018
Love Michael. I never leave disappointed
Beth
June 14,2018
Michael is the best. Period.
Cary
June 13,2018
Super talented and friendly!
Matthew
May 26,2018
Michael gave me an exceptional cut, just as he always does. Highly recommended!
Stacie
May 26,2018
Michael does beautiful work...always!
Stacie
May 26,2018
Love the changes to my haircut, rounding the ends looks amazing!
Debbie
May 22,2018
As usual, I really enjoyed my appointment with Michael! He did a great cut and was very patient and understanding with my indecisiveness. I appreciate the fact that he lets me know the pros and cons of cuts I'm considering.
Alli
May 18,2018
Fabulous!
Ron
May 18,2018
Great
Terri
May 17,2018
Michael is justthe best stylist I've ever had, and I've had many in my time. He's talented, personable, and professional. Love my hair thanks to Michael.
Fiona
March 03,2018
Tried new products, made me feel special
James
February 28,2018
Great personality, great work, and great conversation.
Ron
February 23,2018
Quick pleasant and professional
Debbie
February 23,2018
I went with a new style. Michael was great at helping me choose a style that would work with my hair type. As always, he did an awesome job and I am very pleased!
Lisa
February 17,2018
EVERYthing! The service, the shampoo and hand massage and of course the cut and style.
Jakie
February 09,2018
Michael is awesome.
Catherine
February 08,2018
Everything from the shampoo, cut ...........love my time there!.
Mary
February 02,2018
Love text/email reminders. Michael does such a good job. Cut is always perfect. Such time and diligence in layers. I love his use of products but never pushes products.
Ron
January 30,2018
He listened well the cut was great. The person who checked me in was quick and accurate and pleasant!
Terri
January 29,2018
Michael is the best stylist I've ever worked with!
Catherine
November 28,2017
Michael is amazing from the personality to the quality of work. I get so many compliments. He makes you feel and look beautiful. Hope the tip thing got straightened out....I said 25% not $25....when I realized, came back to the salon to make right but he had left.
Lindsay
November 19,2017
Everything was fantastic! Thank you!
Heather
November 15,2017
Everything! Michael gives the best head massages during hair washing
Ann Marie
November 15,2017
Color is smooth and has some dimension. Personal service is always appreciated. Michael is a bit of a perfectionist, checking, tweaking, and snipping until everything is as intended. I always feel more confident after a trip to Mango. Thank you.
Christine
November 15,2017
Everything- Michael is awesome!
Jamie
November 09,2017
Michael is so amazing! I felt so bad we had to book today to add some more color but he couldn't have been more nice about it. I love the way it turned out and can't wait for my next appointment!
Jamie
November 07,2017
Michael was so nice and did a fantastic job
Vanessa
October 27,2017
Michael is amazing! Love the haircut and will be back!
Terri
October 26,2017
Michael is so charming and talented. He gives me the best haircuts I've had . . . and I've had many!
Jenn
October 21,2017
Takes the time to speak with me to make sure we are on the same page before he does anything
Heather
October 21,2017
Awesome!
Stacie
October 07,2017
Love Michael...that sums it up!
Anne
October 04,2017
First time I used on line request for appointment. Worked great
Ellen
September 30,2017
He's amazing as a stylist and a person.
Marian
September 29,2017
Giving a tour of the salon
Heather
September 29,2017
Great all around!
Kelly
September 23,2017
Michael B is always amazing, and everyone at the salon is always so welcoming, professional, and kind.
Beebe
September 22,2017
Michael is delightful. Excellent stylist while being very professional and personal.
Margie
September 11,2017
Michael is always smiling and fun to sit and chat with. The receptionists as well make the visit a very nice experience.
Terri
September 08,2017
Michael Bay is the best stylist I've ever experienced!
Jakie
September 06,2017
Michael always makes my day!
Cheryl
September 02,2017
Everything was awesome as usual.
Emily
August 30,2017
He was friendly and gave a great cut. The head and hand rubs were AMAZING. He took his time and made me feel pampered!
Stacie
August 27,2017
Fabulous as always and enjoyable as he works!
Ellen
August 20,2017
Michael listens incredibly well and asks great questions to find out things he needs to know that I wouldn't think to tell him. The information flowed both ways, as I was instructed on specific blowdrying techniques and product to get the volume and swing I needed. He has mad skills with styling and color...he even matched highlights I showed him in a picture of myself from 17 years ago! And Michael is such a warm, happy, kind person, so it's truly a pleasure being in his company. In fact, I found everyone there to be extremely friendly and helpful, from the folks on the phone and behind the counter to the woman who shampooed me to the gentleman who offered to retrieve my phone charger when I forgot to take it with me. Great experience!
Beebe
August 19,2017
Always pleased with the personal attention and courteous service.
Dru
August 19,2017
I really like the color!
Chris
August 16,2017
Nice, clean shop. People were friendly and I loved (1) the warm hair towel after conditioning; and (2) that Michael had a sharp razor to begin with, and actually changed it halfway through my cut (because there's nothing worse than that getting-your-hair-ripped-out-by-the-roots feeling of a dull razor).
Jenn
August 16,2017
He really listens to me with regard to what I would like but at the same time is great at offering suggestions.
Sonja
August 14,2017
Eccellent
Sue
August 09,2017
Michael is amazing! He is funny, engaging and is a master stylist!! I love my new look!
Heather
August 09,2017
Check out was very smooth. Nice service.
Cathy
August 05,2017
Everything! Very enjoyable experience. Looking forward to my return in 4 weeks.
Sarah
August 04,2017
My original stylist had a last minute conflict and mango called asap to re book me - gave me multiple options same day. My haircut with Michael was excellent and at time to re book they never made me feel awkward as to who I would re book with. I appreciate everyone making it easy for me to see the stylist I want. (I did re book with Michael as he did an excellent job!)
Jill
August 02,2017
Excellent customer service
Beebe
July 21,2017
First visit with Michael. He was very friendly, courteous and professional. He offered helpful tips to use at home for maintaining the style of my hair. He listened very attentively to my concerns and offered suggestions for improvement.
Mary
July 19,2017
Good consult-- great cut- always wants to make sure it will hold its look long term.
Stacie
July 15,2017
Michael is always amazing and fun to talk to as well!
Jill
July 14,2017
Michael is an amazing stylist, and I'm always very happy with the results! When I come in for my appointment, I'm usually stressed out from the day; but after Michael's shampooing, head, neck, and hand massages, it's like I had an hour full body massage! He's also so friendly and fun to talk to. It was just an all around great experience. Thank you, Michael!
Stacey
July 12,2017
Great cut! Gave me some good tips for styling at home.
Dru
July 10,2017
The service is very good , atmosphere is very friendly and the products used are very good.
Jeanette
July 09,2017
I love chatting with Micheal; he makes me look like a million bucks and feel like two million.
Jenn
July 07,2017
Very personable and professional
Christie
July 01,2017
He's wonderful!
Delilah
June 29,2017
Michael is a master with color! He never fails to make me feel 10 years younger when I am finished in his chair. Michael and the ladies that work the front desk are so friendly.
Anne
June 28,2017
MIchael is always great. And the cut/color look great. I also liked the young woman who helped with part of the process - sorry I didn't catch her name.
Jill
June 28,2017
Customer service was top notch. The best I've experienced.
Betty
June 16,2017
I liked the tour of the salon and the very individual attention Michael gave me. The color he chose was perfect
Debbie
June 14,2017
Michael is and excellent stylist! He listens to me, is patient when I'm indecisive and makes great suggestions regarding my hairstyle.
Chelsea
June 14,2017
Michael always does an awesome job with waxing. I trust him completely and won't go anywhere else!
Aylin
June 07,2017
Michael did an awesome job, I'm super happy with the result.
Fiona
June 05,2017
I managed to add an appointment for my 6yo daughter, who has told everyone that she had Michael do her hair, and that it was awesome! Praise indeed!!
Stacie
June 03,2017
Michael is just simply the BEST!
Terri
June 02,2017
Michael gave me the best haircut of my life. He is an artist and I am so very happy with my summer hair! THANK YOU MIchael.!
Dru
May 24,2017
Excellent cut and color ! Atmosphere was very friendly and the staff was very attentive to the customers comfort! Thanks.
Barbara
May 17,2017
Good experience start to finish.
Delilah
May 11,2017
Michael is a master at color. I feel 10 years younger when he's finished with my hair!
Beth
May 10,2017
Love my color. Michael is terrific
Vicki
May 02,2017
The whole experience is always positive. Everyone is so friendly, efficient, knowledgeable and caring.
Tracy
April 29,2017
Every time I see Michael he always greets me with a huge hug and smile! The ladies up front and Michael always offer a beverage. The atmosphere of Mango keeps me returning along with Michael Bay's AMAZING skills! I leave Mango every time feeling like a pretty flower instead of the hot mess that walked in! I never feel rushed nor I feel like my balayage is ever rushed. Love, Love, Love it here!
Terri
April 28,2017
I am a new customer and Michael was so kind and made me feel so welcome. He looked at a photo I brought and was very positive about my input. Love the cut and consideration of my hair type!
Suzanne H.
April 27,2017
Michael was great. I love the color of my hair when he was finished. He's very talented.
Susan
April 21,2017
Michael listens to me, then applies his knowledge and expertise to come up with the best solution to make my hair be all that it can be! I love Michael!
Susan
April 14,2017
Love Michael!!!
Ashley
April 04,2017
Loved getting a quick tour of the facility, made it easier to feel more comfortable moving around once the appointment began. Great customer service, made me feel very welcomed on my first visit to the salon. Michael is great all around - he was easy and enjoyable to talk and connect with, but also provided explanations of what he was doing with my hair and why. Being someone who doesn't have a lot of experience with higher end hair cuts, this was much appreciated. I just might have been won over to getting a haircut more than once a year. :)
Stacie
March 25,2017
Michael is an expert color and hairstylist! He knows color well and knows how to do highlights to make them look natural until my next appt. he is so enjoyable to talk with during my appointment too!
Debbie
March 22,2017
Everything from the time I walked in the front door!! The receptionists were professional, friendly, and efficient. As usual, Michael did a fantastic job on all aspects of my appointment; from the shampoo and hand massage to the cut and blow drying - he made me feel pampered. I trust him and truly value his opinion when it comes to my hair cuts.
Chelsea
March 22,2017
Pleasant, friendly service!
Douglas
March 16,2017
Michael Bay is a terrific stylist. A real professional!!
Mary
March 02,2017
Michael is wonderful. My cut looked great even while growing out. He is always chatty and helpful and I have enjoyed getting to know him and coming to my appointments at Mango @ Gaskins
Jakie
March 02,2017
Michael is a rock star with my hair. Plus, bonus = he is fun to spend time with!
Jenn
February 10,2017
EVeryone is always very personable and Michael really listens and does not treat my appointments with a cookie cutter approach. He is patient and gives honest feedback as to what is best for me
Beth
December 07,2016
Great service! Always friendly staff . Very accommodating. LOVE my visits to Mango!
Jakie
December 02,2016
Friendly
Debbie
November 18,2016
The receptionist was very welcoming and kind. I always enjoy my time with Michael. Not only is he an awesome stylist, he truly makes me feel pampered with shampoo and hand massages! He's also fun to talk to!
Chelsea
November 18,2016
The receptionist was pleasant and courteous. Michael always provides exceptional friendly service!
Jessica
November 14,2016
Michael is always so pleasant and though very busy, never allows that to effect his work
Mary Lynne
November 09,2016
Amenities and comfort
Beth
November 02,2016
As always, Michael did a FANTASTIC job! Never disappoints!
Douglas
October 27,2016
Michael Bay is a terrific stylist!
Jakie
October 13,2016
Water or a drink offered is always nice, massage is awesome. Michael is the best, like spending the morning with a good friend. He gives the best massages, too.
Jenn
October 13,2016
I just moved to Richmond, and finding a new hair stylist can be stressful. Everyone was very friendly and helpful. Michael was great to work with, and I have already booked another appointment with him. He was very patient and thorough during the consultation and appointment.
Chelsea
October 10,2016
From cut to blow dry - - everything was perfect!
Anne
October 07,2016
I was ten minutes late - and everyone was very nice about it. And Michael B. was of course his usual fabulous self!
Meredith
October 05,2016
From the phone call to schedule an appointment, to the friendly and prompt greeting at the door, to my experience with the AMAZING artist Michael, everything was absolutely perfect! The staff exceeded my expectations in every possible way, I felt pampered and well cared for, and will certainly be recommending Mango to all!
Denyse
September 30,2016
Color and cut. Jean made the appointment and scheduled Michael Bay to do my hair. He was very pleasant, upbeat, and did a wonderful job. I will reschedule for him to do my hair in the future. Everyone was made me and my husband feel right at home.
Heather
September 29,2016
SO GLAD TO HAVE MICHAEL BAY BACK!!
Catherine
September 28,2016
The whole experience was great.
Douglas
August 20,2016
Always a great cut by Michael Bay!
Heather
August 03,2016
Michael Bay represents Mango's professionalism very well!
Debbie
June 17,2016
I brought my daughter in for an appointment and asked Michael when we arrived if he would have time to do a quick bang trim for me. He took the time out of his schedule and did exactly what I asked. He always gives stellar customer service!!!
Chelsea
June 17,2016
Michael did an awesome job as usual! I always look forward to my appointments with him.
Beth
June 16,2016
Michael is the best! Always gets you out of there looking and feeling your best! :)
Lindsey
June 03,2016
Michael B. is such a pleasure to be around. He has a wonderful, upbeat personality, and gives an amazing hair cut!
Lisa
June 01,2016
I love Michael!
Sharon
June 01,2016
Loved Michael!
Douglas
May 27,2016
Always a first rate experience at Mango. Michael Bay is an outstanding stylist.
Chelsea
May 24,2016
Michael is a great stylist. I came in not sure how I wanted my hair cut and he gave me a style I loved!!
Debbie
May 20,2016
From the advance booking to the haircut, it was a great experience! In the past, I always saw Alia Trudgeon (and was very sad to see her leave); but Michael is an awesome stylist with a super personality! He did a great cut and is definitely my choice for all future cuts!
Lauri
May 18,2016
Michael is wonderful...
Catherine
May 12,2016
Michael is a treasure -- great cut, color, head and hand massage all a treat. I walked out of there feeling like a million bucks because I was treated that way. Thanks!!