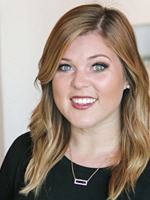 Macy
Designer 3 Westhampton
Education
Mango Fresh Talent Program
Aveda Advanced Men's Cutting


I enjoy the artistry of the beauty industry and how that translates into accenting my guests' natural beauty. My lifelong interest in hair compelled me to enter the honors cosmetology program at Rudy & Kelly Academy immediately after graduating from college. Since joining Mango, I have studied men's haircutting under Michael Pavlick, and honed my cutting, coloring, and finishing skills. I inherited a work ethic from my parents that pushes me to take the extra step in creating the perfect look for guests.
BIT ABOUT ME "Ta Kala Diokomen" is my favorite saying. It means let us strive for that which is honorable, beautiful, and highest.
Hays
August 09,2019
Great!
Grace
August 02,2019
Macy is terrific. Very helpful explaining to my 14 year old about hair care and split ends. Grace's hair looks fabulous. She is very happy with her haircut! We will be back. Thank you very much🌟🌟🌟🌟🌟
Barbara
August 01,2019
Macy is a Sweethart, she does a great job with my color, always pleased.
Brian
July 24,2019
Macy rocks!
John
July 05,2019
Macy is great !!
Allie
July 01,2019
Couldn't be more happier! Looks like I just took a trip to the beach—so natural looking (more than I thought was possible) and makes me smile when I look in the mirror, thank you Macy! Also just had such a relaxing, nice time getting it done and talking to
Susan
June 28,2019
Macy was excellent, as always. This has nothing to do with Macy, but it seemed that every area of the salon was covered in hair today...the floor, the counter and seat at the color bar, the footstool during my shampoo...I'm used to the salon being cleaner
Maria
June 20,2019
Macy is talented and wonderful!! Maria Murphy
Summers
June 18,2019
So friendly!!
Charlie
June 08,2019
Macy gives the PERFECT haircut to my son every single time. She is such a talent and always so patient and kind. We love her!
Barbara
May 30,2019
Macy is a Sweetie, does her job well. She did my color ad I think she did a good job!
Warren
May 22,2019
Super attitude and communication is excellent.
Claiborne
May 02,2019
.....the best....
Jennifer
October 30,2018
Macy is a great stylist!! However, I was charged the wrong amount even after I disputed this price. They did reach out and correct this after I was charged.
Alice
October 26,2018
Great
Michael
October 23,2018
Incredibly pleasant to converse with. Provides a great cut and both elicits and listens to your feedback to get the end result that you want.
Alice
October 17,2018
Great
Michelle
October 12,2018
Macy was great! I had an overall color done. It has shine now. I'm going back to add highlights/lowlights in a few weeks.
Jessica
October 08,2018
Turned out perfect! Thank you very much.
Lauren
September 28,2018
Would highly recommend Macy to anyone looking for a new stylist. She made my time at the salon so enjoyable and I absolutely love my hair.
Ann
September 27,2018
Fabulous! My hair looks 100% better!!
Amy
September 26,2018
Macy always gives great haircuts! She's not "scissor happy" she took off just the right amount of length and really shaped up my layers nicely.
Amy
September 26,2018
Macy did a great job on my color! She listened and did exactly what I wanted. My hair color now looks so rich and I feel like I have been brought back to life.
John
September 21,2018
All great ! And great coffee!
Susan
September 11,2018
Macy was fantastic! My appointment was the highlight of my day.
Alice
September 08,2018
Great job as usual
Debi
August 31,2018
Excellent!! Perfect!!!
Marianne
August 30,2018
We love Macy!
Katharine
August 25,2018
Macy always does an amazing job getting my hair color to what I want it to be.
Peter
August 22,2018
Macy was great! Thoughtful, helpful, and very pleasant as well as careful in talking over the coloring.
Marianne
August 16,2018
Macy did a fantastic job!
Alice
August 10,2018
Great
Debbie
August 03,2018
Another great color by Macy!
Alejandra
July 31,2018
Macy is so sweet! Did a great job with my cut and was fun to talk to as well :)
Karen
July 27,2018
Macy is a doll and she did a great job on my blow dry! Exactly what I wanted. I will be back to see her. She is a delight!
Alice
July 26,2018
Great
Claiborne
July 20,2018
.....great performance.....will book again....,
Vitoria
July 14,2018
Macy made me feel beautiful on such a special day! Thank you so much!!!
Heather
June 22,2018
Macy did a great job from the relaxing shampoo to my actual hair cut. I felt like she understood exactly what I wanted and I will definitely go back to her for my next cut!
John
June 21,2018
Was excellent !
Margaret
June 21,2018
I love my daughter's haircut, and she has received many compliments!
Ines
June 19,2018
I LOVE IT A LOT THANK U
Alice
June 19,2018
Great job- very knowledgeable
Susan
June 19,2018
Macy was awesome!
Noemy
June 15,2018
Macy was great! She did exactly what I envisioned. She made my experience comfortable and the price was well worth it. I had long THICK hair and she thinned, cut, and toned it. I could not be happier with the end result.
Debbie
June 15,2018
Love it!
Debbie
June 15,2018
I feel like Macy improves my look every time I visit - love my cut and color!
Ivan
June 12,2018
Very pleased with results!
Ivan
June 12,2018
Macy Listened to what I wanted and successfully delivered
Elizabeth
June 11,2018
Great service!!
Marianne
June 11,2018
Macy is excellent at making my thick, frizzy hair look gorgeous.
Francie
May 30,2018
Love my first balayage!!
Marianne
May 23,2018
Fantastic.
Mary
May 18,2018
Macy was so flexible and fun to be with!! You can tell she loves what she does, where she does it, and who she does it with!
Natalie
May 18,2018
Outcome was exactly as I described. Color is perfect.
Natalie
May 18,2018
Beautiful! Perfect for what I wanted.
Natalie
May 18,2018
Styling is gorgeous.
Nancy
May 17,2018
Great job!!!
Angel
March 03,2018
I've tried four different salons in the Richmond area (looking for "my place") and I do believe I've found it here! Everyone is always so welcoming and Macy does great work! :)
Elizabeth
February 06,2018
She listened to what I envisioned for my hair and style and she gave me feedback, but also gave me great results. I love my new cut and color! I will be going back to her next time I come!
Ellis
November 24,2017
Easy to talk to and she gave a great haircut