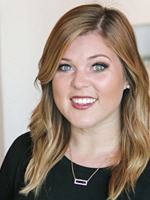 Macy
Designer 1 Libbie Grove
Education
Mango Fresh Talent Program
Aveda Advanced Men's Cutting


I enjoy the artistry of the beauty industry and how that translates into accenting my guests' natural beauty. My lifelong interest in hair compelled me to enter the honors cosmetology program at Rudy & Kelly Academy immediately after graduating from college. Since joining Mango, I have studied men's haircutting under Michael Pavlick, and honed my cutting, coloring, and finishing skills. I inherited a work ethic from my parents that pushes me to take the extra step in creating the perfect look for guests.
BIT ABOUT ME "Ta Kala Diokomen" is my favorite saying. It means let us strive for that which is honorable, beautiful, and highest.
Angel
March 03,2018
I've tried four different salons in the Richmond area (looking for "my place") and I do believe I've found it here! Everyone is always so welcoming and Macy does great work! :)
Elizabeth
February 06,2018
She listened to what I envisioned for my hair and style and she gave me feedback, but also gave me great results. I love my new cut and color! I will be going back to her next time I come!
Ellis
November 24,2017
Easy to talk to and she gave a great haircut