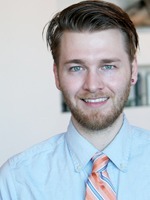 Kyle
Designer 3 GreenGate
Education
Advanced Balayage w/ Jimmy Girgenti
Advanced Men's Cutting w/ Michael Pavlick
Balayage w/ Jimmy Girgenti
Bb Men's Cutting w/ Bit
Bb Styling w/ James Ruiz
Bb Updos w/ James Ruiz
Color Splash Haircolor w/ Jimmy Girgenti
Core Cutting w/ Ricardo Dinis
Creative Color Placement w/ Jimmy Girgenti
Double Process Lightening w/ Jimmy Girgenti
Full Spectrum Deep Color Fusion w/ Jimmy Girgenti
Full Spectrum Deep Color Systems
Gray Coverage w/ Jimmy Girgenti
Haircolor Magic: Power Paint w/ Jimmy Girgenti
LearnAveda w/ Hauns Korpela
LearnAveda w/ Ricardo Dinis
After leaving VCU, I dabbled in many things. These included being a pre-school teacher, soccer coach, sales, restaurant business & a gallery/non-profit intern. Luck, or maybe destiny, brought me to Mango---and I couldn't be happier. Working in the beauty industry is my passion and I like the idea that I get to help people by making them feel good in body and spirit!
BIT ABOUT ME I cherish memories more than anything. I am particularly fond of all the framed photographs that adorn every inch of my walls.
Allison
March 05,2018
Kyle is always so great and accommodating. I love getting my hair cut with him.
Debbie
March 03,2018
Kyle is awesome. He listened to what I wanted and made me look great
Nancy
March 02,2018
Great color and customer service. Madi, who washed my hair, was great too! Love Kyle and keep referring him.
Cathie
February 28,2018
Everything
Megan
February 21,2018
Kyle is extremely talented, intelligent, and focused. He has limitless potential, and I love his work. I really love my hair, and Kyle's energy makes my experience with this salon so positive.
Ann
February 20,2018
All of it--let me in a couple minutes early, on time, really fun cut.
Cathie
February 03,2018
Great new hair style. Great consultation on product solutions for hair issues for which I purchased. Always a great experience and visit with Kyle!
Pam
January 31,2018
Kyle gives a great cut!
Megan
January 29,2018
Very personable and enjoyable to talk to. Always love the salon experience at Mango.
Nancy
November 30,2017
Kyle always does a great job. Love coming to Mango!
Jenny
November 26,2017
I look forward to my appointments at Mango. The customer service is wonderful and my hair always great.
Debbie
November 17,2017
Kyle is awesome. My first visit and he understood exactly what I wanted. I totally love the experience. I'll be back
Karalee
October 23,2017
Kyle is quick and always ready to try something new. He took time to try a new curling/setting technique on my hair and it turned out great! I only wish I had the time (and bonnet dryer) to do it at home.
Maryanne
October 15,2017
Kyle is a treasure. He is very very good at what he does and the experience is great! I look forward to my haircuts .
Karalee
September 19,2017
He looked at pics I brought and told me I needed to let my hair continue to grow out. I asked him to do some 'internal' texturizing and trim dry ends. I feel like I need layers, but he does not. Some of my ends sill look like they weren't trimmed very much, but he did texturize and clean up the back, which looks good. I'm just not sure 'growing out' is always the answer for everything.
Laura
September 16,2017
THanks to Kyle for his attention to detail and listening to my concerns. He did a beautiful job on my color and hair cut. Congratulations to Mango for having such a profesional designer.
Laura
September 11,2017
Kyle did an amazing job as always.
Betsy
September 11,2017
Kyle did a fabulous job with my poor hair that was desperate for shaping and texture. I was so pleased and will be back soon.
Angel
September 07,2017
I came in with a pretty specific idea to maintain length and add layers. I ended up with long layers that do not look like they exist and 3 to 4 inches off. Kyle did give this advice and I did agree. After getting home and looking in the mirror i feel like all i did was get a trim that was more off than i wanted and no transformation of my hair at all.
Andrea
August 26,2017
Fun haircut ! He really listened and used his creative talent !
Cathie
August 23,2017
Everything! Kyle is not only a great stylist, he's great at recommending and explaining product. Kyle is a great colorist as well. He is very personal and wonderful at pampering! Thanks Kyle!
Pam
August 20,2017
greeting, touring the salon, discussing expectation and executing what was discussed.
Dana
August 12,2017
Great cut and took his time to perfect it. Thank you!
Barbara
August 06,2017
Kyle did a superb job! Very upbeat and easy to talk to.
Andrea
August 04,2017
Listened and made several great suggestions !
Kathleen
July 31,2017
Swift, friendly service. Kyle is talented and personable! First hairstylist I've made it a point to return to.
Cathie
July 07,2017
Everything!
Linda
July 06,2017
I am very pleased with your salon. The service is exceptional. It is the best salon I have ever been to in the Richmond area.
Chandler
June 26,2017
Each of my experiences at mango salon have been outstanding. Thank you for your services.
Kathryn
June 22,2017
Kyle was awesome. He was very understanding of my issues from the previous service. He was very knowledgeable about what happened with my hair and had a few great suggestions to fix it. He did a great job correcting the previous service!
Allison
June 08,2017
Kyle is so precise and remembered exactly how he cut my hair last time (a haircut I loved) despite only seeing me once before. He goes the extra length to make sure I have what I want and that it will work for a variety of styles. I also love how conversational he is and that he keeps me entertained for the entire appointment!
Usman
June 04,2017
No waiting! Kyle was great as always, and gave me a hair cut and style that has been turning heads within my family and friends! Kyle also gave lots of great advice and tips to maintaining my new hair style.
Megan
May 24,2017
Kyle is amazing! Excellent work on my hair, and further he is so knowledgeable on all products and their use, and did a great job teaching me how to use them on my new style! I even noticed a junior team member seeking his expertise and mentorship. Kyle is simply fantastic.
Brenda
May 12,2017
I love hoe I was greeted when I walked in and how I was given a tour with this being my first time. Kyle was great. He really took his time with me. Listened to what I want and I really appreciated that.
Brenda
May 12,2017
I love hoe I was greeted when I walked in and how I was given a tour with this being my first time.
Karalee
May 08,2017
Kyle is pretty easy to talk with.
Kate
May 07,2017
Kyle was great! He was honest about my hair and took into consideration my styling preferences.
Mary Ruth
May 07,2017
His knowledge and willingness to help. Very nice, courteous person who gives his all.
Laura
May 03,2017
Kyle and the staff are so friendly. My hair looks great as usual.
Kara
May 03,2017
Everything! Kyle is fantastic and I always get so many compliments on my hair!
Bill
April 08,2017
Stars don't work but 5 out of 5. KYLE was awesome. I'm a traditional old school haircut guy but he was great. Very personable.
Patrick
April 08,2017
Kyle always does a great job!
Whitney
April 08,2017
Kyle does an AMAZING job! I always love my hair color and cut. I even drive from 2 hours away to have him do my hair.
Nancy
April 07,2017
Great customer service and Kyle is the best with color! He really listens to what I want and makes great suggestions.
Kathy
April 07,2017
Love them
Dana
April 06,2017
Always a nice and pleasant atmosphere with friendly staff.
Laura
March 24,2017
Kyle did a great job as usual.
Sarah
March 06,2017
Made me feel welcome and relaxed
Nancy
March 03,2017
Kyle is great and love the color.
Ann
March 02,2017
Everything, keep doing what you're doing!
Brian
February 19,2017
He has fantastic technique and a great eye for detail
Riley
February 16,2017
Kyle knew just what I wanted from just a photo. It was a big change, and I love it!
Laura
February 10,2017
Kyle and the whole team did a great job. It is always a positive experience and my hair looks fantastic.
Marci
February 02,2017
He's always helpful with helping me decide the route I want to go with my hair. He listens and provides feedback and results that I always end up loving!
Caden
January 23,2017
Kyle gave my 2 yr. old grandson an adorable haircut and did an excellent job keeping Caden happy!
Cathie
January 03,2017
Styled and colored my hair perfectly!
Christy
November 21,2016
Kyle is an excellent stylist with a great personality - it's evident he loves his career choice
Cathie
November 14,2016
Loved Kyle! Gave me a great cut and style plus lots of advice on how to care for my hair and advice on product! I look forward to my next day at the salon with Kyle