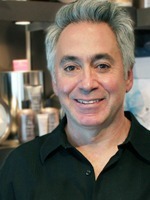 Henri
Designer 5 GreenGate
Education
Vidal Sasson Haircutting
Aveda Women's Short Hair Cutting
Bumble and bumble Razor Cutting
Advanced Haircutting Techniques
Aveda Curly Cutting
Dry Haircutting for Men and Women
Advanced Men's Cutting
I've been in the business for many years and still look forward to that feeling I get each day at work when I am able to help someone feel good about themselves. I attended school in NY for both cosmetology and barbering and enjoy styling men and women's hair. Some of my favorite styles are short pixies, textured shags, precision bobs, and long layered natural looks.
BIT ABOUT ME I was born in Queens, NY and have studied hair in NY, London, and Miami. When I'm not at work, I like to spend time with my wife and two sons and enjoy photography and playing the drums.
Jeff
August 06,2019
The Best!
Navin Dr.
July 20,2019
Attentive to detail. Personable. A great experience!
John
July 13,2019
Henri is the "BEST!" He is a true professional and represents Mango well.
Amy
July 09,2019
I can depend on Henri to always give me a great hair cut.
Amy
July 09,2019
Henri listens to your hair concerns.
Sebastian
July 02,2019
Thanks Henry for my hair cut! Now I am ready for summer! Sebastian
Mark
June 29,2019
Henri always delivers an amazing cut
Cassie
June 28,2019
Love Henri, 10 Stars!
Cassie
June 28,2019
The Best
Jeff
June 15,2019
Always appreciate Henri's attention to detail!
Cara
June 14,2019
I've been going to Henri for 13 years and I try not to let anyone else touch my hair. His cuts are always so precise and beautiful. Worth every penny!
Cara
June 14,2019
Henri always gives me the best advice to achieve the look I'm going for. He's amazing!
Joseph
June 08,2019
My father loved his haircut and clup
Areej
June 06,2019
Henri is the best hair stylist ever I would close my eyes and let him cut my hair. I'm so happy with his service...
Sam
May 31,2019
Henri is best barber I've ever had!
Jarrett
May 21,2019
Fantastic
John
May 16,2019
Henri is the best. None better
Kandice
May 09,2019
Really beautiful and "soft" today. A great cut as always!
Charlie
May 04,2019
Awesome. As usual.
Lynn
May 04,2019
Henri took a lot of time with my hair & did an EXCELLENT JOB!
Das Lakshmana(Dr.)
May 01,2019
Excellent
Jeremy
October 19,2018
Doesn't get any better than Henri! He goes above and beyond every cut.
Kandice
October 18,2018
Excellent! Very pleased!
Rick
October 03,2018
Great job at a moments notice!
Jack
September 22,2018
Did a great job of fixing an earlier cut that was not good. Thank you!
Tom
September 21,2018
Arrived early and he took me early. Worked out great!
Brandon
September 20,2018
great stuff
Natalia
September 20,2018
Perfection!!!
Jackson
September 18,2018
Henri always takes good care of his clients and makes sure to listen to their needs so they get exactly the cut they ask for.
Maggie
September 11,2018
Another perfect haircut. Thank you, Henri.
Debra
September 08,2018
Henri is always the very best. He sets the standard for excellent cuts. You cannot do any better.
John
September 01,2018
Henri was at his best today. Coffee was too strong.
Dulcie
August 29,2018
My first Visit but not my last! Henri was awesome , I love my hair again.
Melissa
August 28,2018
1st Time visit and very pleased. Great cut and consult.
Rick
August 24,2018
Great haircut.
Eva
August 22,2018
Great blow dry as always! Wish I could have it every other day!
Jarrett
August 22,2018
Excellent!!
Brian
August 21,2018
Always enjoy the experience with Henry. Great banter and a perfect haircut.
Eric
August 09,2018
Henri = the Man!
Mark
August 07,2018
great guy! Great haircut!
John
July 26,2018
Outstanding service - Henri is the best!
Rick
July 24,2018
Always a good cut
Tom
July 20,2018
Henri is great.
Ruthie
June 28,2018
Great cut! Thank you!
John
June 27,2018
great!
Ruthie
June 16,2018
Henri is the best stylist! He listens and gives his expert advice, which I very much appreciate!
Lakshmana(Dr.)
June 16,2018
Excellent
Laura
June 16,2018
Henri is fabulous! I can't say enough good things about him. He made me love my hair again.
Brian
June 12,2018
Always a fun experience.
Mark
February 20,2018
Everything A to Z
Elizabeth
January 30,2018
Henri is a genius. I'd scream it to the world, but then I might have a hard time getting an appointment.
Ruthie
November 19,2017
Great cut! Thanks!
Cassie
November 15,2017
Everything!
Heather
November 15,2017
Great Haircut.
Barlan
October 29,2017
Henri did a great job, I'm very happy with my haircut.
Lorraine
October 14,2017
everything was great! Friendly professional staff. Henri is caring, professional and a truly pleasant person . i look forward to my next appointment with him!!
Georgia
August 27,2017
He listened to what my current hair routine was and made suggestions and provided input on how to keep my new style fresh
Jeremy
August 23,2017
He takes his time and is very thorough and goes the extra mile for his clients. He trims my eyebrows!
Sue
August 23,2017
Henri is great. Also, the new assistant who washed my hair was very attentive and helpful.
Dennis
August 12,2017
I always enjoy visiting Mango. That one hour allows me to decompress!
Lorraine
August 06,2017
Henri is truly caring professional and personable! Everyone there is a pleasure to deal with
Jan
July 28,2017
Great experience all the way around. Everyone was friendly and helpful. I especially like my haircut!
Kevin
July 03,2017
Cut my hair as I directed!!
Greg
June 17,2017
Very thorough and followed my plan perfectly!
Lorraine
June 17,2017
Friendliness and professionalism always
Sue
June 14,2017
Henri was running a bit over from his previous appointment and he was kind enough to call and let me know.
Lori
June 14,2017
Great haircut. Friendly staff. Love the hand massage during shampoo
Dennis
June 07,2017
As usual an excellent experience!
Cassie
May 31,2017
Henri is the best! What more can I say. He is an experienced professional stylist. Mango is lucky to have him.
Eileen
May 30,2017
Everything was great as usual.
Kui
May 17,2017
Henri is very attentive.
Judith
May 15,2017
very efficient and accomadating, Henri is a good listener, and very professional. He cut my hair beautifully. Thanks Henri !!!
Sue
May 05,2017
Henri listens to his clients and gives feedback. He is extremely professional and cordial!
Michelle
April 29,2017
Henri explained how he planned on cutting my hair and gave me multiple opportunities throughout the appointment to provide feedback. He was flexible in making sure I received the exact haircut I wanted for my curly hair. I'm so appreciative!
Cassie
April 26,2017
Henri is the best!
Jennifer L.
April 22,2017
I love my haircut! And I loved the level of service and attention I received throughout my visit.
Hochong (Dr.)
April 14,2017
Henri is truly a master stylist!!
Eileen
April 11,2017
Customer service was great, the people were friendly and accommodating, and Henri was awesome as usual. I am sending some friends to him at their request. I have been to your Mango Salon at Short Pump 2 times now and both times I had a very nice experience. I highly recommend you to many people. Thank you to all.
Sue
March 24,2017
Henri is great. Very attentive and very thorough!Always an excellent experience!
Jeremy
March 22,2017
Henri is a class act and is always keeping myself and his station clean throughout the entire haircut. He is a pro and a great asset to Mango Salon.
Cassie
March 15,2017
Henri has the knowledge and understanding from years of experience that is reflected in his work. He works hard to give you the best possible cut and color for you. Henri is the best!
Eileen
February 21,2017
Everything was great but the best was my haircut.
Mark
February 18,2017
Great place
Cassie
February 08,2017
Henri is the best! He makes you feel at ease. I usually fall asleep. That says something
Melissa
January 11,2017
You got me into see Henri within a matter of days and Henri was able to make adjustments to my haircut easily and efficiently!
Cara
January 11,2017
Everyone is wonderful! I haven't let anyone but Henri touch my hair for 10 years. He's amazing and such a joy.
Cassie
January 04,2017
Henri is fabulous. Years of experience
Judy
January 04,2017
Color and cut What I wanted
Samantha
December 21,2016
Henri did a great job and explained the process as we went along so I knew what to expect. I would definitely come back.
Ruth
December 18,2016
I appreciate getting an appointment on short notice in suc a busy week. Henri is terrific. He gave a wonderful hair cut and blow dry. Thank you. Until next time best wishes to all.
Mark
December 08,2016
Everyone is great!!
Sam
December 05,2016
Henry is the best barber I have ever had. That's why I am willing to pay $60 +tip for his services. Plus; he's a cool guy and musician.
Andrew
November 24,2016
Great experience. Top shelf customer service. Henri is the best. What a nice man and has a gentle and caring soul and he is incredibly talented at his craft. Always fascinating and inspiring to watch a true artist and its easy to see he is all in on doing the best job he can.
Gale
October 22,2016
Absolutely everything was perfect.
Andrew
October 19,2016
Everything...very warm and welcome greeting...especially since I was a walk in. Everyone was very professional and top shelf...Henri did an amazing job on my haircut and he was fabulous to be with. Really enjoyed getting to meet him.
Amy
September 29,2016
Henri and staff...awesome as always.
Geoff
September 16,2016
Henry is a great asset to your company
Jeremy
August 11,2016
I really liked my stylist Henri; he is first class!
Caroline
July 14,2016
Everything was great
Geoff
July 11,2016
Henry is a great asset to your establishment. Very impressed with the cleanliness of the shop and the attitudes of the stylist and receptionist
Sue
June 24,2016
Very punctual and friendly. Henri is an excellent hair technician.
Mason
June 09,2016
haircut for my son Mason
Siva
June 03,2016
Henri is so perfect.