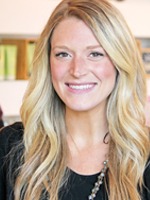 Megan
Designer 3 Gayton Crossing
I've always been interested in hair and my mom's sense of adventure inspired me to pursue doing what I love. It all came together when I got an opportunity to attend the Paul Mitchell School in Woodbridge, VA. Shortly after, I started my career in Mango's Fresh Talent program. Now, as an experienced Designer, I enjoy working with all types of hair and especially love braiding and styling hair.
BIT ABOUT ME The best advice I ever received was to stay true to who you are and do what you love.
Suzie
October 11,2018
Loved my haircut. Was shocked when I could not pay in cash. Not Megan's fault, and love her haircuts, but may be forced to find new hair dresser.
Rebecca
October 02,2018
Megan was great! Thank you so much!
Tammy
August 08,2018
Megan did a great job with my color and blow dry!!
Lauren
August 04,2018
So glad to have Megan back!!!!
Elizabeth
July 18,2018
LOVE MY HAIR!!!!!!
Debbie
July 12,2018
Megan always does a perfect blow dry for me! Lots of body!
Malinda 'Mindy'
June 23,2018
I Love the cut! I also loved that she took extra time to show me how to style my hair at home and gave me styling tips. She's great!
Malinda 'Mindy'
June 23,2018
Excellent! She helped me achieve a healthy shiny hair color.
Malinda 'Mindy'
June 23,2018
I appreciate that I was able to get in to see Megan, since my Stylist that I normally see was unable to fit me in to her schedule before I left for vacation. Megan was patient, kind, and really listened to my concerns. I enjoyed the Gayton crossings loca
Pegg
June 23,2018
Thank you Megan for being so wonderful to my 91 year old Mom. We love her haircut and coming to a lovely salon with a lovely person makes her feel youthful boosts her spirits. Thank you, Susan
Marilyn Z.
June 13,2018
Very professional! Made me feel good about my preferences and requests. Thank you!
Pam
June 12,2018
Everything was great! Fun being at GC for the first time. Megan did a wonderful job with my color and all in record time!
Lisa
June 07,2018
Awesome