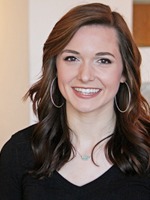 Madi
Designer 3 Westhampton
Education
Mango Fresh Talent Program
As a young designer, I take a fresh approach to working with each guest---using all my new knowledge and training. The artistry of hair design combined with the opportunity to meet new people each day, make this a dream career path for me.
BIT ABOUT ME My mother is my biggest inspiration! She taught me the importance of a strong work ethic.

Margaret
August 06,2019
Madi is always so pleasant--and also consistently creative with what she does with my cut & color. She listens to what I want, but she's always looking for new ways to apply her skills. She's great!
Ashby
July 23,2019
Friendly
Sarah E.
July 13,2019
So personable. Lovely job!! High recommend
Heather
July 12,2019
Very good! She's friendly and Willing to accommodate your requests… It was my first time and she made me feel very relaxed and I felt like I was in good hands! I love my hair!
Hays
July 12,2019
Madi is great with Hays (3.5 year old) and his parents. She is extremely patient and funny, both of which make the experience a positive one for us all.
Liz
July 11,2019
Love her!! Officiant, clean, friendly, kind and awesome at what she does!
Nora
July 11,2019
Madi is amazing! I couldn't be happier. I will definitely be back to see her!
Lori
July 09,2019
Madi always does a superb job on my hair. She is an attentive and skilled stylist with a gift for making a guest feel pampered. I walk out after every appointment with sleek and silky hair, a smile on my face, and a sense of relaxation - I could not ask fo
Trey
June 29,2019
Best haircut ever received.
Jennifer
June 28,2019
A definite asset to your salon. Live her!! Excellent cut, professional & super sweet.
Chris
June 27,2019
Always the best
Susan
June 26,2019
Madi is always so kind and positive. I come out of Mango looking and feeling renewed!
Molly
June 22,2019
Friendly, positive, a real delight! Always pleased with her services!
Mark
June 21,2019
Always consistent and friendly.
Kim
June 05,2019
Madi is awesome--always so cheerful and upbeat. Today when I left the salon it was in the midst of a terrible storm so Madi created a "poncho" for me out of a trash bag and gave me a shower cap so my hair wouldn't get ruined. What a gem!
Ashley
May 31,2019
Madi is always friendly and does a wonderful job! The new salon is great!
Jennifer
May 18,2019
She made me so happy and is such a sweet person. I love my hair!
Caroline
May 18,2019
Always does a great job!!
Andrew
May 15,2019
Madi was excellent! Was my first appt at the New Mango!
Andrew
May 15,2019
Would book again!
John
May 10,2019
She was great !!
Heather
May 08,2019
Great haircut and loved Madi!
Krystle
May 02,2019
I loved how she styled my hair. She did a great job! She was very friendly and I appreciated her conversation! Thank you!
Margaret
October 25,2018
Perfect, thanks Madi!
Margaret
October 17,2018
Not as light as I thought it would be, but still looks great!
Alyssa
October 05,2018
Madi was great!!! Loved my hair after!
Molly
September 14,2018
Madi listened to my needs and gave feedback on what would work best for my hair style to ensure I was getting what I wanted
Natalie
September 01,2018
Madi is the best stylist I have ever worked with! I'd honestly give her five more stars if I could! She gave me the exact cut I asked for and patiently took the time to teach me how to style it based on just a few pictures I showed her. I've never walked o
Mark
September 01,2018
Great hair cut.
Jennifer
August 17,2018
She did an amazing job and she's such a pleasure to work with. I have had many compliments on my hair both times she's cut it!
Mac
August 10,2018
Super and getting better each time.
Teresa
August 08,2018
Madi was very professional and did a great job!
Anne
August 07,2018
Madi did a great job making sure the color was just what I wanted and that all my creature comforts were attended too.
Sara
August 02,2018
Amazing!! What a great stylist. So pleased.
Frank
August 01,2018
Excellent hair cut very friendly. My first time I will be back. Frank
Emma
July 31,2018
Gave me exactly what I asked for!
Mary Cathereine
July 31,2018
She was super nice and gave me a great cut!
Phebe
July 11,2018
She did a fabulous job especially never having done my hair. Love her
Emily Wilson
June 29,2018
Madi was so pleasant and friendly and gave a five- star haircut!
Angela
June 29,2018
I am very satisfied with my cut and style, I will definitely be back to see Madi
Jennifer
June 21,2018
Very happy with results. My husband loves my hair
Kimberly
June 08,2018
Added some more color where it was needed. Love....Also took the time to show me how to make my hair curly. Love her ❤💜
Collyn
May 31,2018
Great cut. Madi listens well.