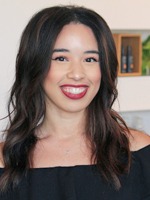 Ashley
Designer 1 GreenGate
Education
Fresh Talent Program
Updos
Geoprism Color Technique
Balayage
Growing up as a ballet dancer, I had to learn to do my own hair and makeup---and I learned to love it! These years of experience gave me confidence in my creativity in working with my guests' hair. Now, not only do I get to help them with their beauty, but I also get to hear about their life. This makes each appointment, every day, interesting. Add some good old-fashioned hard work to this formula, and I found the perfect career!
BIT ABOUT ME Balayage is my favorite color technique. It has a soft, sweeping look that grows out looking natural.
Sara
March 02,2018
Ashley has such a nice, warm, personality. She listened and made sure my experience was enjoyable. I'd recommend her to anyone.
Diane
February 25,2018
It was quickly and beautifully done.
Brittany
February 19,2018
Ashley was very warm and welcoming. She did a fantastic job with my hair. I look forward to future appointments with her soon.
Dawn
February 02,2018
Ashley and I have worked together for about 4-5 haircuts now, and she "gets" what I want. I leave there with my hair cut the way I asked. She is extremely pleasant to work with, and I feel now that we have developed a friendship of sorts.
Betty
December 04,2017
Very relaxing experience
Jackie
December 01,2017
Ashley was amazing, my color turned out great ! I️ fully enjoyed my experience
Randi
November 18,2017
Everyone was very friendly. Ashley was a very sweet person.
Diane
November 16,2017
The consultation and the textured blow dry went very weel.. I was done within 40 minutes! Happiness! Happiness!
Patrick
November 10,2017
Ashley is a talented and amazing professional! Great haircut!
Kathy
October 26,2017
Omg she was so relatable and fun. Very positive and comfortable. I gave her authority and she thrived!
Lee
October 21,2017
Ashley is the best! So helpful and makes you feel amazing sitting in her chair!
Karen
September 20,2017
Very pleasant & enthusiastic
Aaron
September 16,2017
Friendly and an expert
Beth
September 10,2017
Ashley was very kind and listened to what I was looking for. She was great!
Susan
September 07,2017
Ashley was great. She listened to me and was intuitive in doing my hair.
Cristina
August 23,2017
Very friendly and professional. Shop was very clean and the staff was super welcoming.
Linnette
August 17,2017
Everyone was very pleasant from the moment I entered the door! Ashley has a great personality and is easy to work with. Love my haircut.
Carrie
August 12,2017
Booking was easy! Ashley was great listening to what I wanted and did an amazing job! Great experience start to finish!
Karie
August 10,2017
Ashley was amazing! Great job with the highlights and always a great experience!:)
Clare
July 22,2017
Friendly, great ideas, very nice, gave me an awesome, stylish cut!
Nora
July 15,2017
Ashley was wonderful. She was thorough and paid attention to what I wanted. I will definitely use her again!
Lisa
July 03,2017
Listened to my requests and did a great job!
Michal
June 25,2017
She couldn't have been nicer, more welcoming or professional. She put me at ease and gave me an amazing cut. Ashley was outstanding! She and a colleague even took time to explain color options for the future to me. I left more educated and wanting to return.
Makayla
June 17,2017
Ashley was amazing she did exactly what I wanted!!
Mary
June 16,2017
Ashley was great! She did a great job on my hair and had the best personality! I will be looking to book her for my next cut.
Debby
June 11,2017
Ashley is wonderful! My hair is beautiful and I loved the scalp and hand massages! I don't live in Richmond, but hope to be back soon and hope to get my hair done with Ashley again!
Pam
June 02,2017
Blow dry and style lovely personality
Linnette
May 27,2017
Ashley is very professional, personable, explains the process and makes you feel very comfortable during your appointment. She listens to what you have to say and ensures you have a quality experience. I enjoy working with her.
Sonja
May 25,2017
Excellent, perfect, above and beyond my hopes and expectations. Both Ashley and Michael are the best and truly remarkable.
Karie
May 14,2017
Ashley was amazing for the whole experience!
Sydney
May 12,2017
Ashley was great,professional and worked in a timely manner she knew exactly what my hair needed I think i found my new stylist!