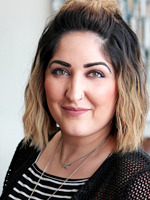 Alle
Designer 3 GreenGate
I'm new to Richmond, but not new to hair, Aveda, or Mango! I have over 11 years of experience as a designer, most recently working in an Aveda salon in Tennessee. It was in this salon that I was introduced to Mango by a co-worker who was a former Richmonder and loyal Mango guest. Her words inspired me to apply here. Now I'm here and I want all my Mango guests to experience the power of good hair!
BIT ABOUT ME My prize possession is a McDonald's receipt from high school that is framed in my bedroom. It has my husband's contact information. He wrote it down for me before our first date….and the rest is history!
Joyce
August 02,2019
Ally is awesome!!!
TJ
July 26,2019
Alle is awesome!!
Shane
July 13,2019
Great haircut! Sweet as can be, too. Thanks Alle!
Megan
July 12,2019
friendly, patient, sweet, detailed..... love my hair cut! Thanks so much!!
Carrie
June 22,2019
Much better, thank you!
Carrie
June 22,2019
Ally spent extra time treChing me about the products and how she would be able to address my concerns. She was excellent.
Itzel
June 20,2019
The color looks very natural. I love it!!
Itzel
June 20,2019
She listened to what I wanted and I was very happy with the results.
Itzel
June 20,2019
I love the haircut. I asked her to cut about an inch off and she did that plus some nice shaping at the end. Very professional and I am super pleased.