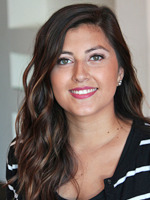 Evelyn
Designer 3 GreenGate
I'm a self-starter who believes that every day is a new day to help guests refresh with a new look for their hair. My passion for the industry began in high school. I set goals my sophomore year and by the time I graduated I earned my license and was ready to launch a career. Now, nearly ten years after my start, I continue to set goals and evolve with my technique and my guests!
BIT ABOUT ME: I am fluent in Spanish and enjoy working with both hair cutting and coloring for a wide variety of guests.
Dani
August 07,2019
Amazing!!! Her blending was natural and beautiful! Love my new look!
Dani
August 07,2019
She was the sweetest and answered ALL of my questions and made sure I was super comfortable the whole time!
Dani
August 07,2019
Perfect! She kept the length I asked for, while making sure it looked even, thick, and healthy!
Patrick
August 06,2019
Absolutely awesome
Patrick
August 06,2019
She knows exactly what a guy needs.