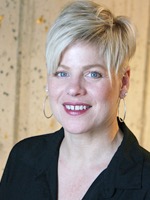 Gretchen
Designer 3 Gayton Crossing
Hair Design is the perfect outlet for my creative energy and extroverted personality. Each day gives me a chance to help people shine by working with their natural beauty, whether they decide to play it safe or break some rules. I have over 20 years of experience as a designer and salon owner in Colorado and am excited to be working with guests in Richmond.
Kim
August 03,2018
Gretchen spent time giving a great in depth consultation. She is friendly and enthusiastic and her many years of experience shines through. She gave me a gorgeous cut and I look forward to becoming a regular client.
Mary Calvin
August 02,2018
Gretchen was awesome! Best hair cut!!
Katie
July 13,2018
Gretchen is the best! She listens and makes my hair look amazing every time!
Emily
June 01,2018
Awesome, supportive, creative! I love my new hair style!
Emily
June 01,2018
Listened well to look I wanted and gave great recommendations based on her experience.