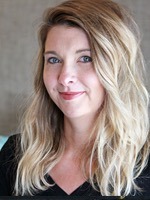 Jaime L.
Designer 4 GreenGate
Education
Advanced Men's Cutting w/ Michael Pavlick
Bb Styling w/ James Ruiz
Curly Cutting w/ James Ruiz

My hair designer growing up inspired me to join the industry. Since graduating from the Paul Mitchell Academy in 2004, I have been growing my business. I have trained in New York and Los Angeles at the Wella Studio and also attended cutting classes at the Graham Webb Academy in Washington D.C.. I wanted a career where I wouldn't be sitting behind a desk all day and I could be creative! Working with guests at Mango gives me this opportunity.
BIT ABOUT ME I'm always honest with guests. They can rely on me to only recommend styles and color that will look best on them.
Amanda
July 16,2019
Jaime always does a great job cutting my hair even when I can't explain what I want. She pays attention to detail and offers great suggestions for styling and care. 😁 I also enjoy her friendly personality!
Traci
July 10,2019
Jaime L is awesome! Beautiful haircut every time. Always look forward to my visit at Mango Salon !!
Anne
July 02,2019
Another great haircut with a little modification that Jamie suggested; I love it!
Terri
June 19,2019
I love Jaime! She knows me so well and we always have the best time!
Terri
June 19,2019
Jaime, keeps my drop dead red on point!
Jonathan
June 11,2019
Magnificent, as always!
Amy
October 10,2018
Absolutely loving the cut!
Kathleen
October 10,2018
Jaimie is great - she always has suggestions on what techniques she can use to give me awesome color
Terri
September 21,2018
Always a wonderful experience with Jamie! Love her!
Jeff
September 05,2018
Excellent!!!
Jonathan
August 22,2018
awesome!
Holly
August 15,2018
Loved my short cut
Amy
August 14,2018
Jaime is great with color- really above and beyond.
Amy
August 14,2018
Jaime never disappoints! Love my cut, as always. Already received several compliments, and I just left the salon a couple hours ago!
Amy Brannan
June 26,2018
Jaime is the best! Love my cut!!
Jonathan
June 01,2018
Jaime is the best! She made me look great!
Dede
February 12,2018
Jaime is the kindest and best stylist there
Monte
February 03,2018
As always, extremely friendly and welcoming when I come in for my appointment. Jaime is extremely good at her job and so friendly and is flexible in what I want to do with my hair. Always look forward to coming in and getting my hair cut.
Susan
February 01,2018
Jaime does an excellent job with my hair. I always get compliments about my hair after my appointments with her.
Beverly
January 30,2018
Stylist was right on time Friendly, personable
Maria
January 29,2018
Jamie always does a wonderful job. I have been coloring my hair with her for a while now and never had a problem.
Melanie
November 30,2017
Jamie is an extremely talented hairstylist! Every time I leave her chair I feel gorgeous. I would recommend her services to anyone and everyone!
Susan
November 30,2017
Jaime was very receptive to my requests. I appreciated her feedback and suggestions. She was very personable and easy to talk to. She gave me suggestions on how to work with my new haircut.
Anna
November 24,2017
Jaime is THE BEST! She always knows how to give me the result I'm hoping for even when I'm not sure how to put it into words. She is also incredibly kind.
Dede
November 15,2017
Jaime is a talented and gifted stylist. I have enjoyed my experience with her immensely.
Anne
November 01,2017
Receptionists always greet me promptly and offer something to drink. The shampoo with scalp massage, warm towel head wrap and hand massage is always good but Brittany did an outstanding job today. Jamie always asks me if I've had an issues with my hair and tells me exactly what she plans to do with the haircut before she starts. She is a very skilled stylist.
Terri
October 26,2017
I look forward to my appointments. I love mango short pump. It's cozy and personal and I love that I'm greeted by name. Jamie is wonderful!
Karen
October 05,2017
I am newly relocated to this area and my daughter in law in MidLothian did research on social media regarding best hair salons, and Mango had enthusiastic ratings. As it happens, Mango is across the street in my Neighborhood! I showed Jaime pics of hairstyles I liked and my former hairstylist's formula. I was very open to her interpretation, and she modified it according to her expertise! I enjoyed Jaime's easy-going personality, and was happy for her recommendations, and went with it all! I am thrilled with the result! Everyone was exceptionally welcoming and cordial! See you in 5 weeks! Fifi
Joanna
September 30,2017
Jamie always does a fantastic job. I would also like to add that the lady who applied my glaze and washed/ rinsed my hair did a great job-- very thorough and professional.
Terri
September 21,2017
Everything! Top notch service from everyone! I love and look forward to my scalp massage, hot towel and hand massage and chatting with my girl, Jamie!
Dede
September 05,2017
She is a gifted artisan!!!!
Debbie
September 01,2017
Listened to my comments
Stephanie K
August 31,2017
Love Jamie. She is so easy to talk with and always does a wonderful job. Such an asset to the salon.
Crystal
August 26,2017
Jamie is amazing! She is so talented and listens to what you want! I travel a hour and a half just to see her!
Karen
August 26,2017
Love that everything at Mango runs smoothly - from the time you arrive until the time you depart. Jaime always takes time to ask, and then really listen to what the customer wants to accomplish during the appointment.
Angela
August 10,2017
Jaime provided exceptional service that exceeded my expectations! She was attentive, professional & solutions oriented. She's earned a new client!
Melanie
August 07,2017
Jaime is extremely professional and friendly. She took her time with me to figure out what type of haircut I was looking for and she gave me suggestions on what cuts would look best with my face shape. Jaime did a fabulous job making my hair look healthy and stylish.
Ellen
July 27,2017
I was greeted upon entering, and once I was ready was taken back to be washed without waiting. Your staff is always professional and friendly. Jaime is always great!
Anna
July 06,2017
Jaime is by far the best hair stylist I have ever worked with, and I intend to continue coming to her for a long time. The salon is lovely and I always get my money's worth.
Dede
June 22,2017
Jaime is always professional....the salon personnel as well.
Joanna
June 10,2017
Everything!
Maria
May 16,2017
My visit to Mango is always pleasant.
Joanna
April 22,2017
As usual Jamie did an excellent job--she's awesome! I actually had to reschedule this appointment and the lady on the phone was super pleasant and quickly found me a new time. I booked my next appointment at the end of last night and that was great too.
Dede
April 22,2017
She is a gifted artist
Anne
April 19,2017
Great front desk staff which is so important in any business! They are welcoming, helpful and friendly. Jaime asks questions about issues I might have with my hair, really listens to my answers and remembers what I have told her about my preferences at previous appointments. I feel that she really wants to give me a great, stylish haircut and takes into consideration what I want as well. Couldn't ask for more!
Jessica
April 08,2017
Everyone at Mango is always so courteous and helpful. The customer service is really excellent.
Paige
March 25,2017
Jaime is excellent. So sweet and listens to what I want
Anna
March 11,2017
Jaime is incredible and always knows exactly how to execute what I ask for. She is incredible at mixing color!
Connie
March 04,2017
I love my highlights
Joanna
March 04,2017
Jamie is amazing. She always listens and had great ideas for what to try with my hair. She also had great technique
Brigitte
February 23,2017
Everything
Cynthia
February 04,2017
Jaime listens and makes adjustments accordingly without drastic changes, plus she has such a genuine sweet personality.
Connie
February 04,2017
Jamie does the best highlights in VA, she listens to what I want, I never leave unhappy!! Thanks Jamie!!
Dede
January 28,2017
The experiance with Jaime was fantastic. She is a listener, and artist...i cannot say enough good about her!!!
Karen
January 15,2017
Simply love Jaime because she listens so well and will also offer her professional advice on the style of cut I'm requesting.
Judith
January 11,2017
Jaime is very professional and is a delight! She explains what she is doing and inspires confidence. She did an excellent job
Connie
January 07,2017
Jamie did a great job, I love the highlights she put in!!!
Kim
December 22,2016
Jaime is wonderful. She always understands exactly what I want and knows what my hair will and won't do.........she nails it every single time!!!
Anna
November 16,2016
Jaime L is AMAZING! She always does an incredible job and does exactly what I want. I would give her a 5 out of 5!
Cynthia
November 07,2016
Jamie was spot on with the warm tones I was looking for! Loving the shine and color!
Karen
November 03,2016
Wonderful customer service provided the minute I arrived at the front desk. Big smiles, and made me feel welcome. Jaime is my stylist and I just adore her. She's always makes me feel special, and really spends time before we start the haircut to explain different options/versions to make sure the end result looks great. Jaime always delivers the best haircut ever!
Dede
October 02,2016
The stylist was great.
Aaron
September 08,2016
Jaime did a wonderful job with my first haircut at Mango. She was detailed and ensured that I was fully satisfied with the work. I was thoroughly pleased with my haircut and experience!
Madilyn
May 30,2016
The telephone receptionist who assisted me in a last-minute appointment change was incredibly helpful and accommodating. My experience in-salon is always fantastic. The receptionists are always friendly and offer beverages. Jamie L. is just the best, I don't know what I would do without her.