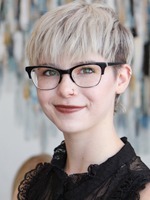 Claire
Designer 2 GreenGate
Education
Mango Fresh Talent Program
New Trends
Men's cutting
Color Technique and Placement
Creative Updo's
A good cut wears itself and can change the way you feel. I like creating effortless looks that aren't over done, but done just right. As a new designer, my goal is to draw on my technique and product knowledge to make a
big impact on all of my guests—whether they are looking to change things up or just make a small change.
BIT ABOUT ME I'm an
adventurous person and enjoy trying all types of workouts and outdoor activities.
Caroline
July 23,2019
Great cut, great experience - thanks so much!
Christine
July 23,2019
Amazing!!
Christine
July 23,2019
Really knows what she's doing!
Lee
July 09,2019
Very good and impressed !
Sara
June 25,2019
She killed the hair cut. It's super cute. I'm very happy.
Sarah
June 22,2019
Claire was amazing! Very friendly and she did exactly the cut and style i wanted. She made sure to ask throughout the cut if I liked it or if I wanted anything different, which I really appreciated!! I'll definitely be coming back.
Sherri
June 21,2019
Claire was great. I could tell she knew about hair.
Sherri
June 21,2019
Nothing negative to say, she was great
Annie
June 07,2019
Claire is the best.....
Linda
June 01,2019
I totally love my haircut , Claire completes her craft with compassion. I am beyond happy to have met her and to have experienced Mango Salon. ♥️
Linda
June 01,2019
Claire is so professional with her questions and overall expertise. Everyone has given me So many compliments and I can't wait to go back!
Mary
May 25,2019
I am a new client. Claire listened to my attempts ro describe what I didn't like about my hair and what I wanted in a new haircut. She asked questions and offered ideas.
Mary
May 25,2019
Claire gave me the best hair cut I have had for a very long time. I love it! It's just what I wanted. She did a terrific job.