Careers
Are you passionate about great hair?
Mango Salon is always looking for hot new talent. Our team members are wildly creative, passionate about our craft and play well with others. They also have a strong work ethic, dedication to customer service, and never stop learning and trying new trends.
We offer:
A fulfilling career path with opportunity for advancement
Ongoing advanced education and professional development
A stellar reputation in the salon industry
A beautiful work environment
Opportunities to reach your full potential
State of Virginia Apprenticeship program
Sound like you?
Apply Online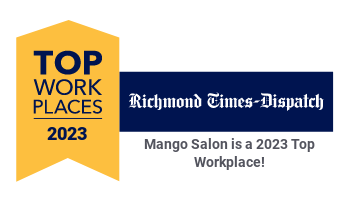 The Richmond Times-Dispatch named Mango Salon one of the Top Work Places in the Greater Richmond area for small businesses.
Read More